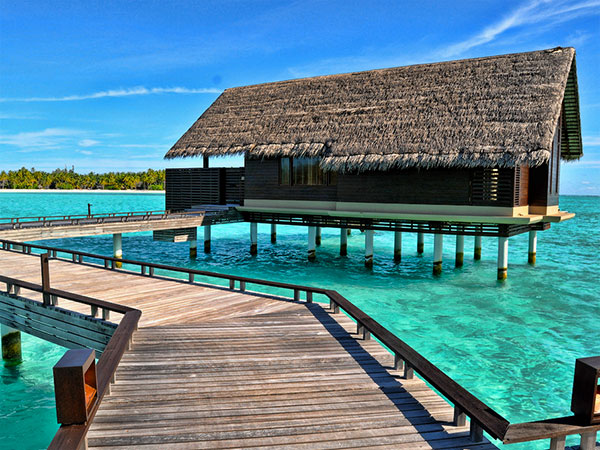 Affordable Paradise? – The Maldives
The Maldives, a chain of tropical islands extending into the Indian Ocean off the southern tip of India, is an idyllic holiday destination. It is not, however, known for bargain holidays on a budget. With hotel brands like Starwood W, Four Seasons and Waldorf Astoria, this island nation has built its success upon the promise of luxury. That's not to say you need to lobotomize the responsible part of your brain when holidaying there. Over the last few years, it's become more affordable to holiday in the Maldives as cheaper hotels open for travelers on a tighter budget. If you're looking for a week or two in tropical paradise but don't want to come back home to the bailiffs, check out these three affordable options. You can research prices for these hotels and others to visit one of the top online travel agencies specializing in the Maldives.
Thulhagiri Island Resort
The Thulhagiri Island Resort has the lowest rates for an overwater bungalow in the Maldives from 168 pounds per night during the low season. Each bungalow has full four star amenities with a separate rain shower, over-sized bathtub and glass bottom table. They also have an entertainment system and satellite TV, sun loungers, refrigerator, coffee maker, and the bungalows have large private decks with steps that go directly into the beautiful lagoon.
The resort offers scuba diving, snorkeling, wind surfing, canoeing and other popular water sports. There is a fully equipped gym, table tennis, beach volleyball, badminton and regular light entertainment in the evenings including live music once a week. There is a full service Balinese spa with beauty and wellness treatments.
This is an excellent choice for those looking for a small, private island hotel rather than a large resort. It offers half-board and all inclusive packages, and the restaurant is run by an award winning Austrian chef.
Meeru Island Resort
This is a large resort that operates on a full-board basis. It is a first class facility and good value at 173 pounds in the off season. All of the water villas are spacious and have entertainment systems, private decks with lounges and shade umbrellas, Wi-Fi available, stocked minibars with refrigerators, coffee makers, open-air bathrooms and other five star amenities.
The resort has over 12 restaurants and bars including two grills, an Asian wok bar over the water, sports bar, pool bar and a hot rock bar and restaurant.
There are many activities offered including a SCUBA center with guided diving and snorkeling trips, wind surfing, a children's pool and a bar at the adults only pool, putting green, tennis, volleyball, badminton, billiards, a fitness center, a cultural museum and much more. There is also has a full service spa with massage for men and women as well as beauty and health treatments. This resort also has business and meeting facilities.
This in a very large resort and caters to every kind of holiday from intimate, romantic getaways to adventurous family fun.
Medhufushi Island Resort
Famous for its crystal clear lagoon, the off season rates at this resort are very low. From 166 pounds per night, the water villas have four star amenities and are very spacious with private verandas and patios that have steps going into the lagoon, large swings, sun loungers, coffee making facility, minibar, IDD phone and Wi-Fi available.
The resort has a diving center and a long list of available water sports such as water skiing, kite surfing, wind surfing, surfing, catamaran sailing, banana boats, kayaks and canoes. There are many other activities including beach volleyball, table tennis, billiards, a fitness center and a full service spa that is over the water. The resort also offers excursions to see dolphins, to shop at local islands, for deep sea fishing and sunset cruises.
There are two restaurants and a bar and half-board is available for the water villas for people over 12 years and for everyone in the other villas. One restaurant is beside the pool and overlooking the lagoon. It has buffet style breakfast, lunch and dinner serving international cuisine. The Alfresco Restaurant is in an over the water pavilion and is famous for its views of the sunset. It is a romantic setting and offers an a la carte menu. The bar is also over the water with spectacular beach and ocean views. It also has a menu for snacks.
 Conclusion
The Maldives are known for being an unreachable paradise but that's not all the case – there are some affordable options available for the traveler who hunts them down.