Wildlife Travel Blog
Wildlife travel is a passion of mine – I love and seek out authentic wildlife encounters and nature trips. As more animals go extinct every year and habitat is lost it's important to try to engage in responsible wildlife tourism whenever possible. Read my best wildlife stories here.
Newest Wildlife Encounters: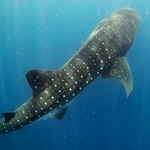 I'm in Belize on the hunt for whale sharks – but I'm not watching them from the boat, I'm plunging into the water to scuba dive and snorkel with the world's largest fish. Don't miss the photos and video from my incredible and unforgettable experience!