Costa Rica Travel
After taking several trips through the country Costa Rica has quickly become one of my favorite places in not only Central America, but the world. The expansive forests, wildlife watching opportunities and diversity are unparalleled; and the people are just as wonderful as the stunning landscapes, lush jungles and palm lined beaches.
Newest on Costa Rica Travel: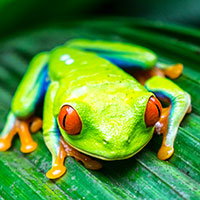 Some of Costa Rica's most dazzling glass frogs, dart frogs, leaf frogs and tree frogs caught on camera.