Nicaragua Travel
Nicaragua is the cheapest country for travel in Central America. It's also safer than some of the countries to the North. Enjoy colorful colonial cities, exploring active volcanoes, one of the world's largest freshwater lakes and amazing hikes.
Newest on Nicaragua Travel: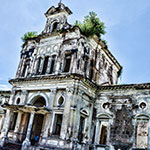 It's not every day you get the opportunity to wander through an abandoned hospital but in colonial Granada, Nicaragua many unusual things are possible.