Fish Camp, CA
The Tenaya Lodge is a 4 Diamond AAA rated resort located on the doorstep of Yosemite National Park. The lodge provides all the luxuries and amenities you'd expect from a modern hotel in a large city despite it's remote and serene setting in the countryside. It's an excellent lodging choice for for those who don't want to 'rough it' while visiting the park.
Location, Location, Location
Tenaya's amenities and comforts are great, but if we're being honest travelers are coming all this way for Yosemite; and the lodge's convenient location makes a perfect launching pad for visiting the park. From the lodge it's only 2 short miles to Yosemite's Southern entrance; and a scenic 1 hour drive to the Yosemite Valley. It's also just 5 minutes drive to the Mariposa Grove Museum of Giant Sequoias. The lodge itself sits on 48 acres of the beautiful Sierra National Forest, so even when you're not inside the park's boundaries you'll still be surrounded by the wilderness you came to experience.
The Rooms
The resort offers 2 main choices of rooms:
Lodge Rooms – These are the rooms located in wings of the main lodge building. There are standard rooms, suites and luxury suites. Remodeling was being finished as I visited and the newly upgraded rooms blended rustic and modern together perfectly.
Cottage Rooms – A short walk away from the large lodge are cottages in a more secluded sugar pine forest. I opted to stay in one of the cottage rooms away from the hustle and bustle of the lodge. The room I stayed in had a gas fireplace which adds to the ambiance of being in the countryside.
All of the rooms included nice amenities like free wifi, mini refrigerator, work desk, and a flat screen TV.
Resort Amenities
Tenaya had more amenities than I could ever use in a short 2 day stay but having such a wide amount of options was great.
Spa & Fitness Center – If you somehow still have energy left over after visiting Yosemite all day there is a fitness center with free-weights and cardio equipment. The large Ascent Spa offers complimentary dry saunas and steam rooms. If that wasn't enough 12 appointment-ready treatment rooms will definitely help your relax and unwind.
Pools & Hot Tubs – There's nothing better than relaxing in the water after a long day outdoors. Although the outdoor locations were closed for the winter, I made great use of the indoor hot tub after the sun set each night.
Babysitting & Pet Sitting – I was happy to see that Tenaya was a pet friendly hotel and there were lots of guests taking advantage of that freedom!
Game Room – You don't see this often, there was a large game room packed with arcade video games,  a pool table, and my personal favorite – air hockey!
Dining
There are 5 on-site restaurants; however some are open seasonally. I enjoyed an excellent breakfast buffet each morning. Jackelope's Bar & Grill had great wings and burgers for lunch. The dinner restaurant offered fine dining and the house-special salmon was some of the best I've had. There was also a small store to buy refreshments, snacks, and pre-packed lunches to go; making it easy to grab something before heading out to Yosemite.
Activities
In addition to the fun amenities there were other activities to keep busy with. I tried ice skating for the first time ever (and I managed not to fall!). After dark it got chilly and was a perfect time to cook s'mores on the fire pit. I had hoped to go out on a guided night walk but ended up being too tired after hiking in Yosemite all day!
That's a Wrap
Tenaya's a perfect spot for vacationing couples and families that desire comforts while taking in the breathtaking national park. They've done an excellent job providing everything you could want from a resort throughout all four seasons. With comfort and luxury comes higher prices which means it's probably not the best choice for tight-budgeted backpackers.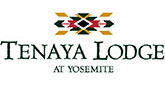 Tenaya Lodge Resort
Website: www.TenayaLodge.com
Rates: $109 per night and up