The Chilean central coast city of Valparaiso has become one of the most popular and well known vacation destinations worldwide.  With an eclectic, bohemian vibe, the bustling city has much to offer the traveler in search of fun filled nights at carnival among thousands of like-minded revelers.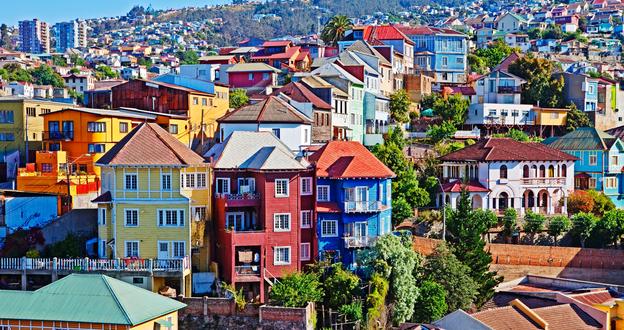 But where do the residents of Valparaiso go to relax and unwind? The answer is just 8 kilometers down the coast to the peaceful beach town of Vina del Mar, Chile. Nicknamed the Garden City for sprawling parks and gardens, visitors can stroll the beautiful landscaped Parque Quinta Vergara. Miles of uncrowded shoreline offer peaceful afternoons at the beach with none of the overcrowding of city beaches.
Artequin Museum for Children offers a family friendly day with hands-on activities and art lessons for kids of all ages. Little ones aged 3 to 5 can sign up for age appropriate workshops on topics such as Art Chagali and body painting. Older children aged 6 to 12 are offered a well-rounded program choice of Tree of Life, Wild Sculptures, Eco Artists, Geometry in Art courses, and much more. If they need more excitement, beautiful Castillo Wulff offers little explorers plenty to see as they walk the grounds of this real-life castle, making their way to the tower where you can watch the waves hit the rocks below through a thick glass floor.
Though life takes a more leisurely pace here, there is no shortage of grown-up fun to find in the evenings. A few blocks from the beach is Café Journal, a thriving electronic music club with three roomy floors to let loose. Looking for a hipster hang-out? Try Barlovento, an industrial-looking concrete-and-steel bar with a reputation for the best cocktails in town. For the University and 20-something set, Scratch is a must with reggaeton and DJ-spun tunes until 5am.
Each year, Vina del Mar hosts fantastic world events drawing stars from all over the globe.  Home to Festival Internacional de la Canción, Chile's most popular music festival, Latin American pop, rock and folk stars have been drawing huge crowds here since 1960. Now hosting over 15,000 fans each year, music superstars such as Tom Jones, Rick Astley, Sting, Backstreet Boys, Franz Ferdinand, Elton John, Cat Stevens and Morrissey perform alongside Latin artists such as Soda Stereo, Chayanne, Ricky Martin, Prince Royce, Marc Anthony, Carlos Santana, Daddy Yankee and Thalía.
Cinephiles from the four corners of the globe gather as International film stars descend on the city each February for the Viña del Mar International Film Festival, or Festival Internacional de Cine de Viña del Mar.
If competitions of skill are more your speed, check out the PokerStars Festival this 20th until 27th May at Hotel del Mar – Enjoy, a five-star resort boasting full service spa, two heated pools, six restaurants, and on-site dance club.
Next time, skip the crowds and chaos of the big city and try Chile the way the locals do, in a tranquil garden by the sea.