To some train journeys may seem long and boring, but the Tibet train that travel from inland China to Tibet (TAR) are exciting, have great views and way cheaper than flights. A Tibet train journey is part of the experience, as you get to mingle with locals, eat traditional food and save a lot more money. The follow tips will help you plan the travel cost for your Tibet train journey.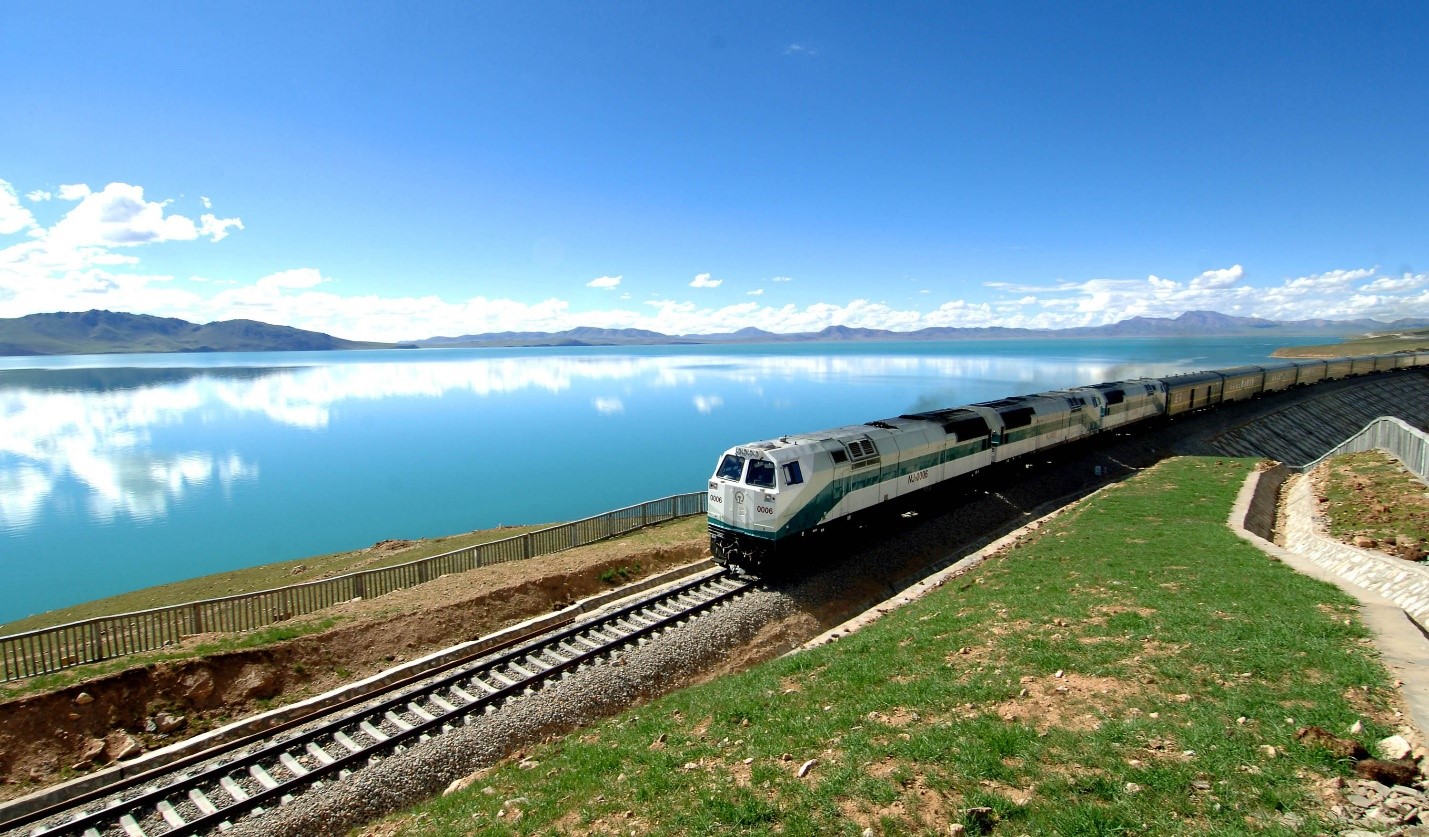 Decide which city to board Tibet Train to Lhasa
There are seven central train stations in China that you can board to travel to Lhasa. You can take direct trains to Lhasa from these seven Chinese cities.
They are -Beijing, Shanghai, Guangzhou, Chengdu, Chongqing, Xining and Lanzhou.
Beijing – If you love crowds, you will enjoy the capital city of China, Beijing. It is the second most populated city in the world. Beijing serves as a significant rail hub in China's railway network. It takes a total of 40 hours as it covers a distance of 3,757 km from Beijing to Lhasa.
Shanghai – The most populated city in the world, Shangai is bound to get you excited and experience a uniquely Chinese experience before setting into the higher altitude Lhasa. There is only one daily train from the Chinese city of Shangai to the Tibetan marvel we call Lhasa. The train leaves at 20:10 and reaches at 18:25.
It takes a total of 3 days or 47 hours as it has to cover a distance of 4,373 km.
Guangzhou – The Southern city of China is the longest route to Lhasa. Enjoy scenery of the open countryside through China and then witness major towns such as Chenzhou, Lanzhou, Wuchang, and Xi'an while on the way to Lhasa.
Ideal for travelers coming from Hong Kong, as is the closest train station from Hong Kong.
The total distance from Guangzhou to Lhasa is a total of 4,980 km which will take around 53 hours in total.
Chengdu – The southwest city of China is another popular pathway to Tibet.
Tickets are far easier to get from Chengdu serving as one of the top spots to travel from if you want to go to Lhasa.
The train leaves every alternate day and covers a total of 3,070 km which is 36 hours to reach the roof of the world, Lhasa.
Chongqing – Chongqing is based in southwest China and has significant history and culture. It is a significant manufacturing and transportation hub. You will notice Chongqing being a rapidly developing city, no wonder it's one of China's 30 emerging megacities.
The train going from Chengdu to Lhasa travels every other day and takes 42 hours as it has to cover a journey of 3,030 km.
Xining – Xining is much closer to Lhasa compared to the other cities in China where the train departs. For the religiously inclined travelers, Xining has the Dongguan Mosque for Muslims and the Ta'er Monastery for Buddhists.
Xining is in total 1,972 km to Lhasa and takes only 21 hours. There are nine different trains every day to the high city of Lhasa.
Lanzhou – Lanzhou is the capital city of Gansu Province in Northwest China, located on the bank of the Yellow River. The Langzhou to Tibet train is high in demand.
The train takes a total of 24 hours to reach and has a distance of 2,188 km in total from Lanzhou to Lhasa.
The trains also pass through minor cities of China like Nanjing, Zhengzhou, Xian, Changsha, and Taiyuan.
You will experience lakes like the Qinghai Lake, Delingha and Namtso Lake which is very sacred. Keep your eyes open for the long tunnels, charming sceneries and a wide variety of different mountains you will pass.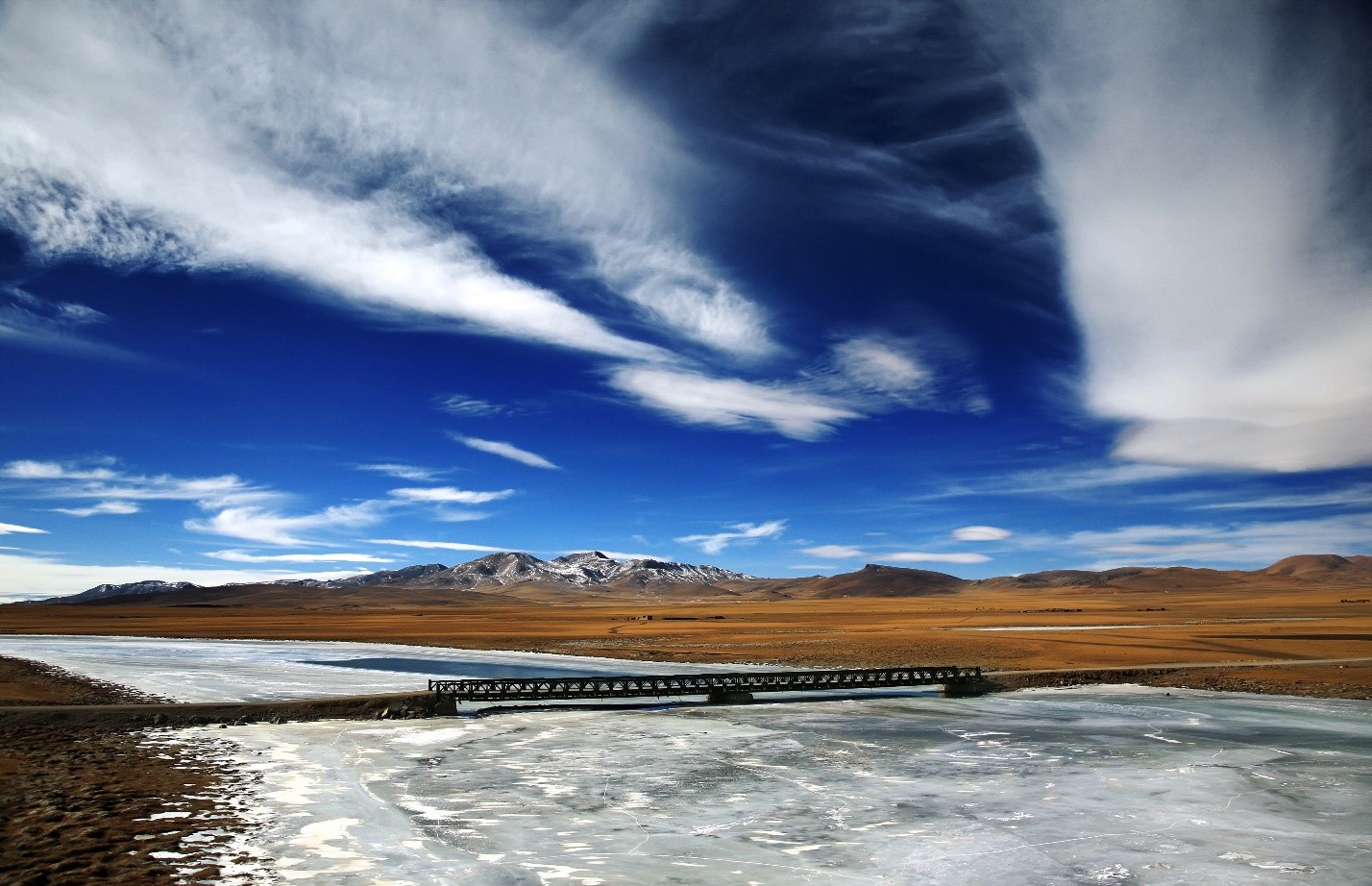 Choose the right train ticket that works best for you
There are three different types of tickets on the train from the Chinese cities to Lhasa. They are- soft sleeper ticket, hard sleeper ticket, and hard seat tickets. They vary in comfort and prices.
Soft Sleeper – The Soft sleeper is a comfortable experience for those who want to spend the extra dime for excellent and pleasant travel. There are 2 sleeper cars with 64 compartments, each having 2 lower berth beds and 2 upper berth beds. The best part is there is a door which you can close for privacy. If you are a senior, it is preferable to take the lower berth for the convenience of getting up when and how you please easily.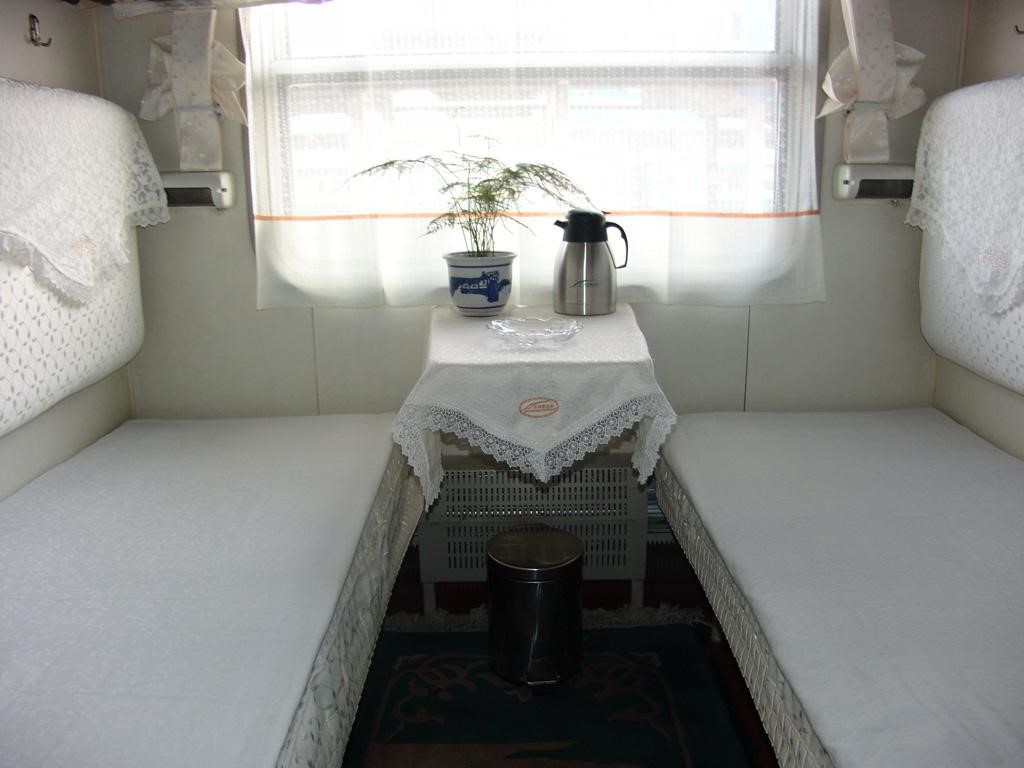 It is the priciest ticket and can range anything between 1,300 CNY to 700 CNY depending on the distance of the Chinese station from Lhasa.
If you are traveling with your family, you can opt for a compartment of your own with a small sized table to have family meals along with 4 beds. It is 70 square feet in area and has trash cans to keep the place tidy for your comfort and vacuum flasks to keep you warm. There is ample space for keeping bags in the soft sleeper berths.
Choose the soft sleeper if you got little extra money to spend on comfort and are traveling from a long distance such as Beijing or Shangai.
Hard Sleeper – The hard sleepers are not as uncomfortable as they sound, and the mattresses on these berths are pretty decent to sleep. There are about 8 to 11 hard sleeper carriages with 11 compartments each. It has two more berths in the compartment compared to the soft sleeper which means there is a total of 6 berths. These are the most booked as it's reasonable, cheap and the most preferable choice amongst travelers and tourists. If you want these berths do book it at least 30 days before in advance.
There is also ample luggage space to keep below the berths.
Hard sleepers cost anything between 490 CNY to 900 CNY depending on the distance.
Hard Seat – It is the cheapest of the three types of tickets, but the least most comfortable. However, as the name sounds, it does not have such hard seats compared to the other trains in China and is softer. It is the ideal ticket for short train journeys which are within the time duration of 24 hours, such as from Lanzhou or Xining train stations.
You can store your luggage below your seat or above the seat near the window. However, do keep your valuables in a bag which you can keep near you at all times.
If you want to experience the culture of China and Tibet as it is and spend much less on the travel, choose the hard seat ticket which will help you interact with the locals.
The Cost of Dining in Tibet
The food on the train is remarkable and will make you want to live on the train forever! Meals from breakfasts, lunch, dinners and even snacks are available to make you never go starving. You can opt for a western breakfast of eggs, pickles, bread, and milk which will only cost around 25 CNY. If you are traveling a long distance, there is a good variety every day for the 2 or 3 days of traveling. The Chinese breakfast of noodles and baozi will make your mouth water even before it comes. As for lunch and dinner, munch on a choice between 8 Tibetan meals, 55 cold dishes, 32 ordinary dishes and 8 soup meals. Don't miss the yak and ginseng salad for an authentic experience.
Sip on some yummy beverages or the healthy water whenever you want to with a handling cart moving to and fro most of the time on the train. These handling carts have an excellent Chinese set meal which is sold at 25 CNY only!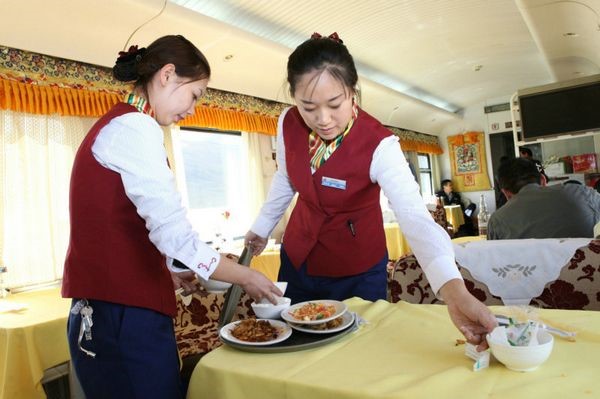 Vendors provide very cheap food and can be extra savings in your pocket. Pass your time eating crispy potatoes and chicken feet with peppers from vendors while enjoying the scenery. Basics like bread and milk can be bought from these vendors for a mere 15 CNY in case you eat light while traveling.
Extra Personal Cost for Tibet Train Journey
Toilet- There are two toilets at the end of each carriage, which are free to use. However, you will need to buy toilet paper, toothpaste, toothbrush, and soap.
Drinking Water- Drinking water, especially warm water is available in water dispensers in ever carriage. You can keep them in a thermal flask for your convenience. The water in the dispensers are non-chargeable. If you prefer bottled mineral water, you can buy it from the food trollers that keep moving up and down.
Smoking Area- If you are a smoker, don't worry there are designated smoking areas in the connecting spaces between the two carriages where you are allowed to smoke. Do not smoke inside the carriages as there is a huge penalty if you do.
Charging Sockets- If you want to charge your mobile or laptop, there are charging sockets available in the compartment which are free to use. Do bring an extension if you're going to charge more than one device as there are limited charging sockets.
Overall a trip by train is the most preferred and ideal choice of travel from China to Tibet given the memories you will make from the local experience at a fraction of a cost of flying by air.