Airlines used to have enormous point bonuses for signing up with their branded credit cards. Offers of 50,000 or even 100,000 bonus points weren't unheard of. Recently though many of those sign up bonuses have been slashed in half or even more. If you don't already have a United card they are currently offering to the public the MileagePlus Explorer card with a 30k signup bonus. A year ago that bonus was 60k. This post is a tutorial on how I just got the bonus bumped up to 50k points and how you can too; for free, with very little effort.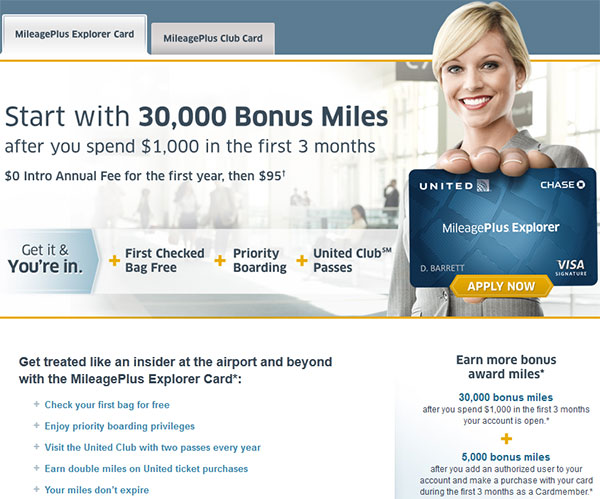 Why you want this card?
You might be asking yourself why you would want any airline's credit card to begin with, and what's so special about the points? United has a rewards program and you can use those points to get free flights, some of them for steep discounts of up to 50% off. You also earn points for every purchase you make using the card.
I did a quick flight search from my current home city of Phoenix, AZ to Cozumel, Mexico – normally this flight is $300+ each way. I found the flight on United's search for 17,500 points each way – that's 50% off! And with the sign up bonus I already have more than enough points for a free round trip flight to many international destinations.  Just for fun I did a second search to Barcelona, Spain also from Phoenix. The normal points needed for an economy seat is 55,000 miles each way – and I found one for just 30,000 miles each way, nearly 50% off again! As you can now see – these bonus miles can earn you free and highly discounted travel.

Now, lets go through the steps of getting the better offer with 20k more points. There are several requirements you need that will take less than 30 minutes to complete. Only members of United's frequent flyer program with some miles (points) in their account can see the better offer.
Follow these steps:
1. You need to sign up for a free United MileagePlus membership. You can do that here: www.united.com/enroll.aspx.
2. Once you have an account write down your United MileagePlus Number you'll need it.
3. Now you need to get some miles (aka points) in your account to see the offer, there are several websites offering free points just for signing up to them. Here are 3 of the current ones:
4. After you've signed up to get the free points wait 24 hours and check back at your MileagePlus account and see if you have any miles:

5. Once you have miles in your account and you are logged in you should see an offer  for the card on the home page with the higher bonus; www.united.com/web/en-US/Default.aspx?SI=1
Now all you have to do is apply for the card and enjoy all those sweet miles!
PS: I tried calling Chase and United both to just ask for the better offer without all the hassle of needing to get points into my United account. They wouldn't even confirm the offer existed over the phone, so for now this is the best and perhaps only way.
PPS: There's another Chase credit card that offers a 40,000 point bonus – and you can transfer those points over to your United (and other airlines) account, which would combine to earn you over 90,000 points.