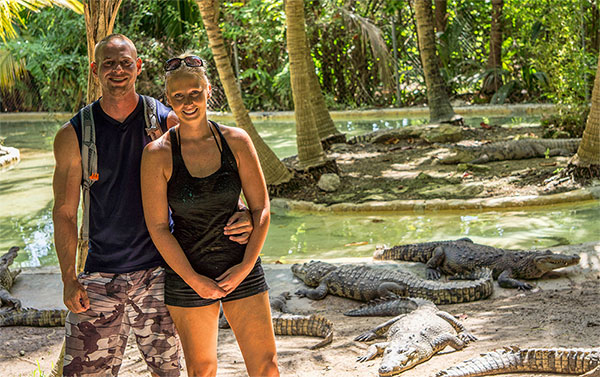 A Day at the Exotic Animal Zoo
Puerto Morelos, Mexico
"As I passed through a gate that had kept me safely separated from the large tooth-filled mouths attached to a few dozen crocodiles I wondered to myself if I was about to become their next lunch."
At the Crococun Zoo you don't just observe wild animals from behind large barriers and protective glass – you get to walk directly into a crocodile enclosure among other firsthand interactions! Good thing they keep these crocs are well fed! On this day I have the opportunity to get up close and personal with wild and exotic animals and I'm relishing it! This interactive zoo allows visitors to pet, handle and feed many of the animals under the supervision and safety of an expert guided tour. Located in sleepy Puerto Morelos, between the tourist hot spots of Playa Del Carmen and Cancun; this is a short and convenient trip for travelers from either city.
Readers of this blog already know it – I love visiting zoos anywhere I travel. The zoo is setup so that tours are done with a guide. They're started by handing out a variety bag of treats to feed the animals as the tour goes on. Walking through the zoo from one exhibit to the next our guide taught us about the local birds, reptiles and mammals while letting us hold and feed many of them.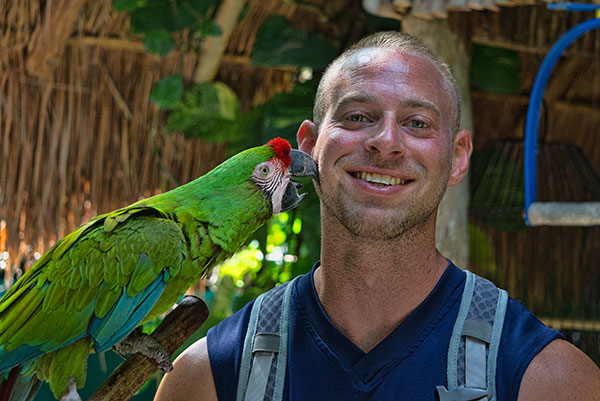 Before visiting all the cold blooded reptiles we learned about, held, fed and got kissed by some vocal and colorful parrots.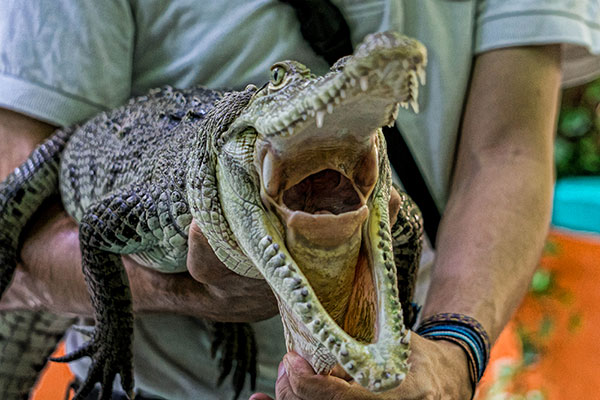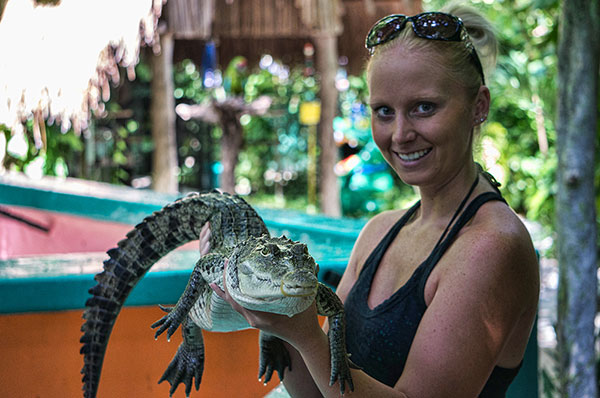 A favorite at the zoo, handling juvenile crocs! They're surprisingly calm, and to keep your fingers safe their mouth is held shut by a small rubber-band, don't worry you won't get bit 🙂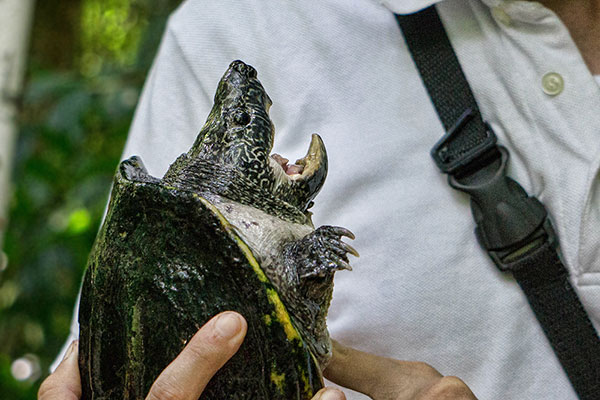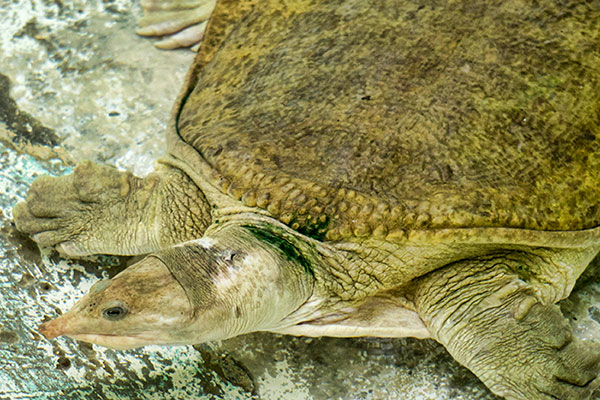 Next we checked out different species of turtles! Careful not to get your finger too close to these mouths, you won't be getting it back!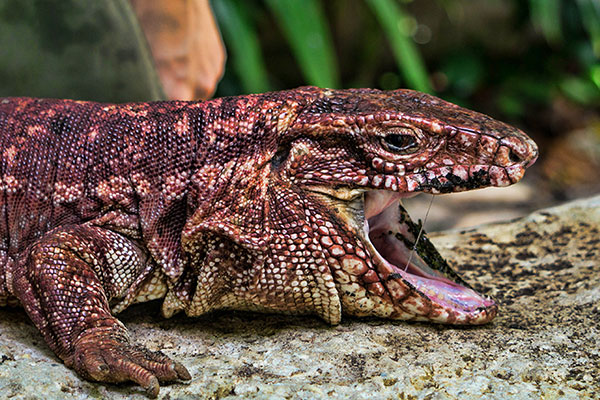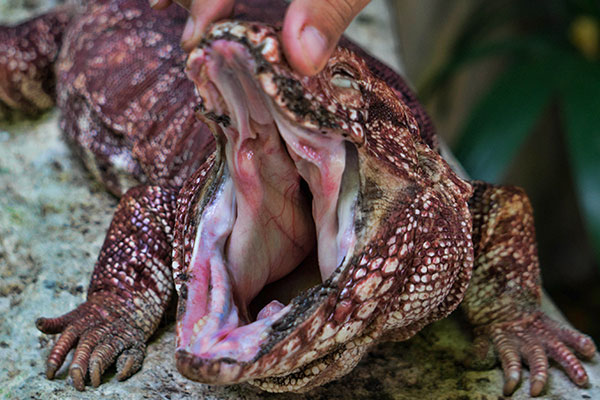 We made our way around quite a few different species of lizards and iguanas. It was the red tegu lizard pictured above that really stood out the most – I'd never seen one before now!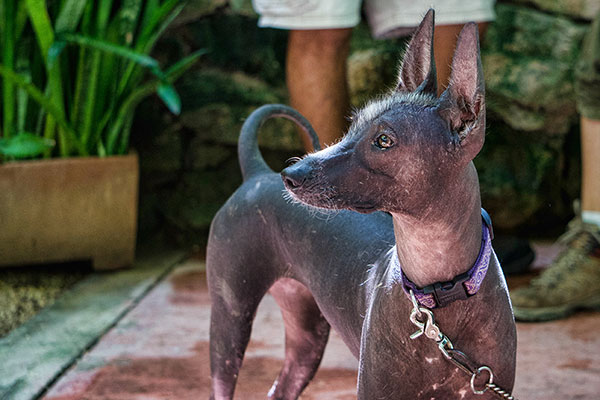 Crococun isn't only reptiles and birds, we met a xolo (Mexican hairless dog), another first time for me! Their skin feels very odd, almost like dried up leather – kind of crusty and a little hard. At this point we're only half way through the tour and I was already loving the experience.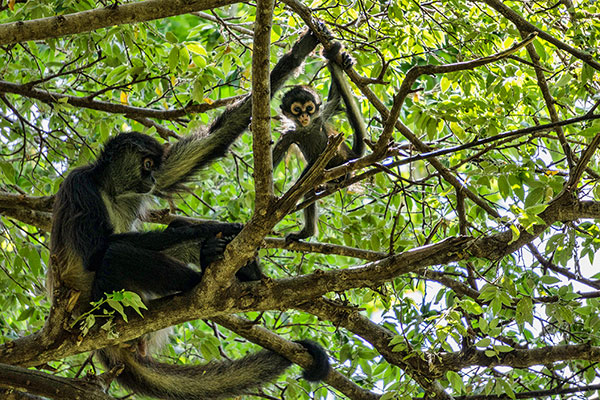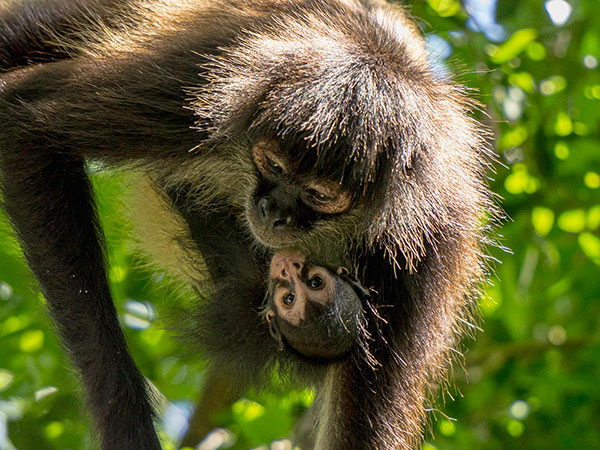 Wild spider monkeys hang from the trees. Yes, wild! They're not trapped in any fences or enclosures; they come and go as they please. For whatever they like to call the trees here home (maybe it's the regular feeding that keeps them happily returning). The mother and baby were adorable!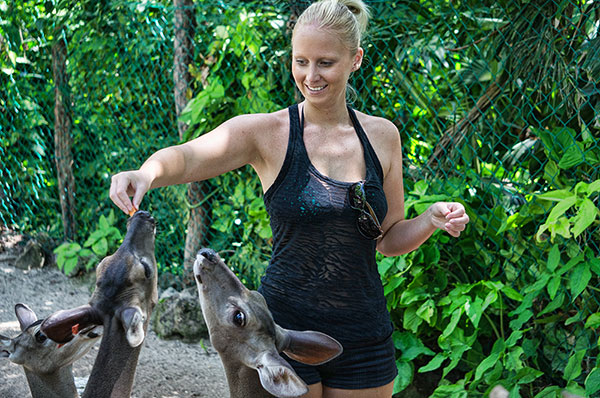 Hand feeding the deer can get messy, they're not shy and they slobber!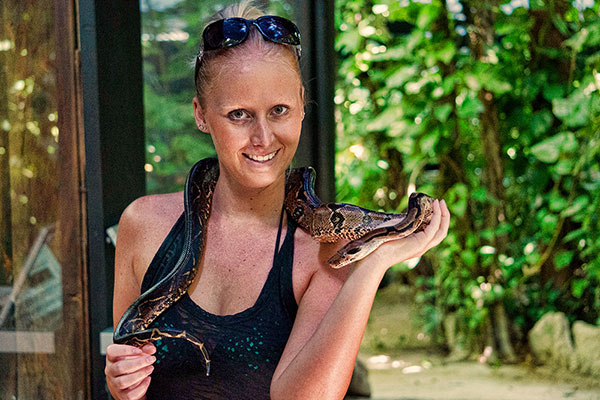 Ever thought you might like to hold a snake? Now is your chance! Don't chicken out 🙂
Conservation
Before it was the Crococun Zoo there was once a commercial crocodile farm here. Thankfully after the devastation of hurricane Gilbert in 1988 it was transformed into what is now a sustainable conservation project that promotes preservation of the wildlife species found locally.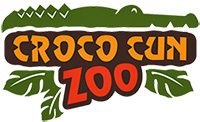 Note: The Crococun Zoo was kind enough to host this tour for us to bring you this review. As always, all opinions published here are my own.
Wear sunscreen, many areas are exposed to the sun.
Dress light it's hot and humid outdoors all year.
Don't be scared to interact with the animals and have a blast!
Visit the beach nearby to cool off and enjoy a Mexican lunch.