I've always found of road trips (especially back when gas was much more affordable) and Iceland is a country is the perfect place for one.
The "Ring Road" as it's been nicknamed is Route 1, which is over 800 miles long and encircles all of outer Iceland. Traveling along this road will lead you on a journey of discovery to geothermal hot springs, fjords, glaciers and epic waterfalls.
Not to mention every night offers up an opportunity to possibly see the Northern Lights!, please add – Tip! Here is a comprehensive guide to the northern lights in Iceland written by campervan rental company Cozy Campers if catching the aurora borealis is on your list.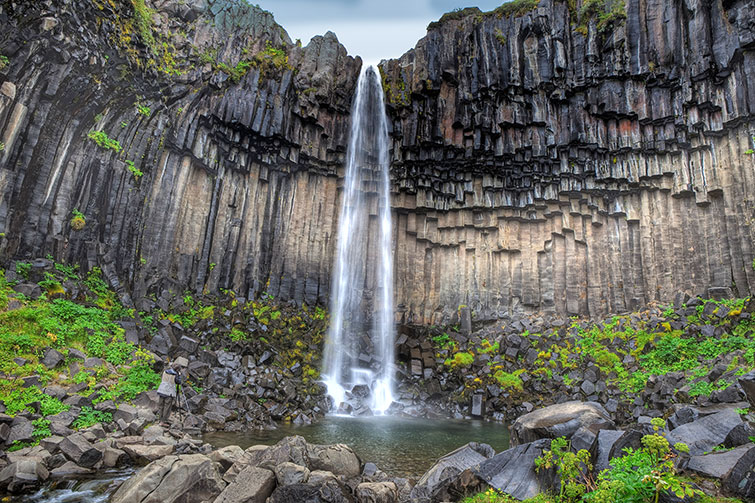 Iceland Travel Resources
Road Conditions in Iceland
Weather Forecast in Iceland
Rent a Car in Iceland
Hotel Deals in Iceland
One expense to consider in addition to your rental car and accommodation is fuel. Gas is expensive in Iceland, coming in at a budget busting $2 USD per liter or about $7.50 per gallon! You'll definitely want to consider the gas mileage when renting a vehicle.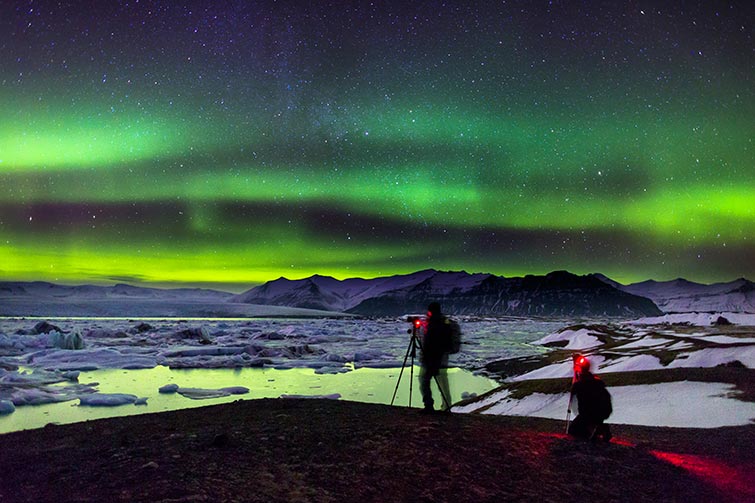 Highlights of the Ring Road Include..
These are just a few of the Ring Road's countless attractions. If you're planning a self-guided road trip give yourself a minimum of 7-10 days, although 2 weeks or more will provide a less rushed schedule and plenty of time to enjoy the country.
Svartifoss Waterfall
Visit the Skaftafell National Park in Eastern Iceland and take a liesurely 1 mile hike to the "Black Waterfall" as it's known. The 65 foot waterfall is one of the country's most popular. The park also has a visitor's center and the trails are well marked.
Laufás Museum
Head up North and visit Laufás (East of Akureyri) to see the Laufaskirkja old style turf houses.
Laufás were Iceland's traditional manor farms which have been in existence since the first Icelandic settlements over a thousand years ago. The trip is well worth see the gabled turf houses and the Laufáskirkja church.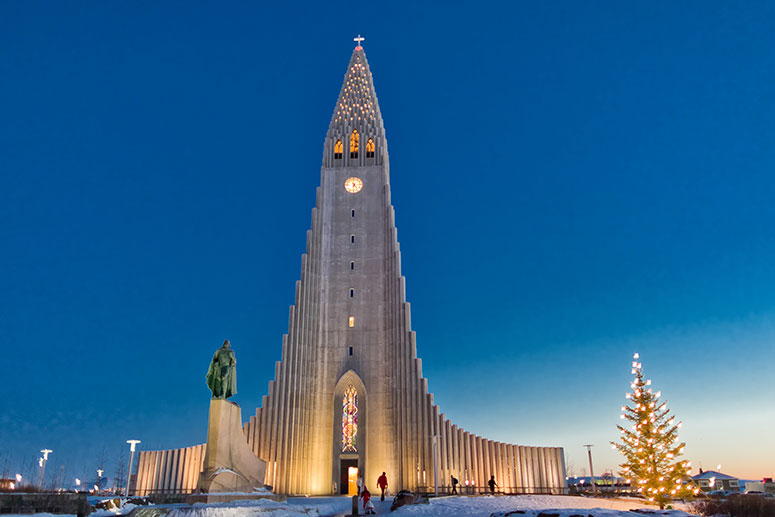 Hallgrímskirkja
Visit Iceland's iconic 244 foot tall church in the capital Reykjavík. The tower is tall enough to be seen almost anywhere in the city. Constructed between 1945-1986, the Hallgrímskirkja features a gargantuan pipe organ of German origins which stands nearly 50 feet tall and weighs in at a remarkable 25 tons.
Vatnajökull Glacier
If you're brave enough – head inside the glacier's crystal ice caves for awe-inspiring scenery and incredible photo opportunities. The Vatna glacier covers 8% of the country and is the largest ice cap in Iceland. Just 4 hours east of Reykjavik the area offers unforgettable views, incredible hiking adventures, there are many tours available here.
Sólheimasandur Beach
Head over to the black sand beach of Sólheimasandur to find one of Iceland's most popular and photographed attractions – the wreckage of an abandoned DC airplane. The wreckage is what's leftover from a 1973 U.S. Navy plane that crashed and was left here. The GPS are 63 27.546-19 21.887. Although you used to be able to drive a 4×4 directly to the crash site the road has since been closed and visiting now requires a 2.5 mile hike – well worth it for the surreal landscape and contrasting black beach and white plane wreckage.