We are about to head off from Hua Hin to Koh Tao, continuing our Thai adventure and looking forward to going diving. Before we go I thought it was a good idea, while Hua Hin was fresh in mind, to tell you all about this place and why we have loved being here so much.
I always follow the rule of go where the locals go, Hua Hin is one of the top beach destinations for people living in Bangkok to visit when they have a chance – on public holidays or just for the weekend. It only takes about 3-4 hours to drive there which is ideal, you can take a public bus for only a few dollars but we opted for a private taxi which ended up costing $40, that's not a bad price when you divide it by two and get dropped off from one hotel to the other.
So why do Thai people and tourists love Hua Hin so much?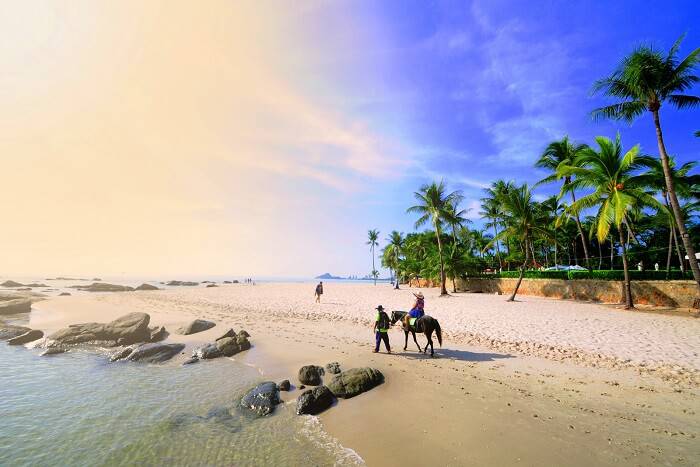 The Restaurants & Shopping
One of the main draws to the beach side city it the quality of both the shopping and restaurants. So many Thai people visit here for a holiday which means that the level of local Thai cuisine is some of the best you will find in the country and because there is a large expat community living here, the western cuisine is top notch too. I would say that a lot of the western restaurants are a higher standard than the ones we found in Bangkok.
The Golf
It is very rare that we get to enjoy playing golf on holiday, something that we love to do back home. So when given the opportunity to play 18 holes in the glorious thai sunshine we jumped at the chance.You don't need any of the equipment because you can hire it all at the course, we were shocked by how cheap it was to play because the prices back home seem astronomical in comparison. If you're staying in the centre of the city you can easily reach 12 golf course in under 15 minutes. We were told by both locals and expats that Hua Hin is famous for being one of the best golfing destinations in Thailand.
The Hotels
In Hua Hin you will find accommodation to suit any budget. There are the top 5 star hotel chains dotted along the coast as well as some very nice boutique hotels. If you don't want to splash out it is very easy to find a place to stay for around $20, you won't get the pool or sea view but you're never too far from the beach. If we had to recommend one, it would have to be the Marrakech – a jacuzzi on the balcony overlooking the ocean is what every needs on a holiday!