Cozumel, Mexico
Mexico's biggest island is home to world class scuba diving that comes at a budget price. Divers flock to Cozumel Island from around the world to experience enormous & colorful reefs, an abundance of Caribbean sea life, and drift diving. With its own international airport and daily ferries to Playa Del Carmen and Cancun traveling to Cozumel is easy.
Newest on Cozumel Travel: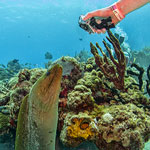 A large green moray eel gets curious and comes out from his hiding place to pose for another diver's camera while scuba diving the reef in Cozumel, Mexico.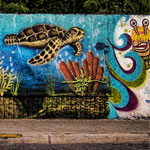 Check out this street art in Cozumel, a large Mexican island in the Caribbean Sea. The wall is full of marine life, intended to raise awareness for Cozumel's national marine park.