San Cristóbal de las Casas, Mexico
San Cristóbal de las Casas in Chiapas is one of Mexico's most beautiful cities. Featuring Spanish colonial architecture, red tile roofs and cobblestone streets this city is filled with delicious international cuisine and Mayan culture. There is much to do in and out of this can't miss city.
San Cristobal Photography:
Newest on San Cristobal de las Casas: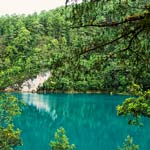 Photo of Lake Ensueño and it's spectacular color. One of the many Montebello Lakes in Chiapas, Mexico. The Lagunas de Montebello National Park.