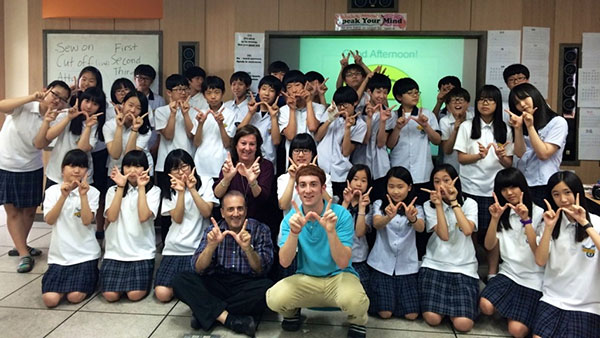 So you want to travel the world but there's a big problem standing in your way – how to pay for it? You could spend a long time stuffing coins into your piggy bank, sell your house, try to start a travel blog, or you could find a job working abroad.
For years many travelers have found ways to 'pay as they go' by working in the countries they travel to. Of course doing so presents some challenges, like acquiring work permits and visas. One of the most popular jobs to get while traveling abroad, is for English speakers to put their language to work for them by teaching English to people learning it as a second language. Whether teaching in a school, tutoring out of an apartment, or to business professionals there are jobs available in many countries across the world. The job requirements vary from none to as specialized as a bachelor's degree (or a B.A. in English) but many are able to find jobs with a quick and easy TEFL certification; which are affordable and courses can be completed online
Funding your travels by teaching English abroad might sound too good to be true but many determined travelers have done it with great success. These 11 travelers below share their stories and tips of how they pulled it off! It is also advisable to visit english essay writing service for getting help with writing.
Teaching Where?
Pyeongtaek, South Korea
How You Got the Job?
My University (Wisconsin) is an affiliate with a program in Korea, so I just applied through them.  My friend told me about the opportunity and I instantly applied, and was accepted the next day.  The program that was on is called GEPIK (Gyeonggi-do English Program in Korea)
Job Requirements?
A degree from a 4-year university, a TEFL certificate, and a passport from an English-speaking country.
How Was the Experience?
Teaching English in Korea was the best experience of my life.  I taught there for 2 years and I absolutely recommend everyone to do it.  I was basically getting paid to travel and party around the world full time.
---
Teaching Where?
Tainan, Taiwan
How You Got the Job?
I was advised not to look for a job until I arrived in Taiwan because companies who hired abroad usually leveraged applicants' lack of knowledge of the English teaching marketplace in the country to offer them lower pay and poorer working terms. I arrived in Taiwan knowing only one person. He recommended several of the schools known to be good places to work. My girlfriend and I both applied to those schools, and were each hired at one.
I stayed at that job for 4 years and loved it. I always felt bad for the people who had been hired out of country and showed up to jobs where they worked much harder for much less pay.
Job Requirements?
A college degree.
How Was the Experience?
Over the course of eight years I taught English in southern Taiwan at nearly every level — from kindergarten all the way up to adult conversation — and also taught some high school immersion and University writing and presentation classes. At first teaching was nerve wracking and difficult, but over the years as I learned how to control a class, structure a course, and explain ideas clearly step-by-step, I grew to love it more and more.
Eventually I quit to write full time, which was my goal. Now that I write full-time, I miss teaching and think about going back to it.
---
Teaching Where?
Madrid, Spain.
How You Got the Job?
I applied directly to the Spanish Ministry of Education's North American Language and Cultural Exchange Program through their online application system, Profex.
Job Requirements?
There are 4 – Be an American or Canadian citizen, be a native English or French speaker, completed 3 years of college or hold a college degree & be less than 60 years of age (except in Madrid, where the age limit is 35).
How Was the Experience?
I've been an English teaching assistant in Madrid since October 2012, and find it enjoyable most days. I've always known I didn't want to be a teacher, but this is the only legal job for North Americans without working papers. While the job certainly isn't horrible, sometimes it can get monotonous. That said, I've seen my students' English language skills progress, which makes me feel that in some small way I am making a difference.
---
Katie & Geoff Matthews – Wander Tooth
Teaching Where?
Prague, Czech Republic
How You Got the Job?
When we first came to Prague, we completed our Trinity Cert. TESOL qualification at Oxford House Prague. They offered career support, and sent our resumes out to key contacts across the city. Before our course was finished we were fielding e-mails from multiple language schools and going out on interviews in the last week of the course. There is a lot of work in Prague for qualified native English teachers.
Job Requirements?
There aren't any official requirements to teach in the Czech Republic, but I think you'd have a pretty tough time finding a job without a reputable TESOL certificate. We completed the Trinity Cert. TESOL, which together with the CELTA, is pretty much the gold standard in the industry. We've found employers here to be very impressed with the qualification. If we didn't have a TESOL certificate, I'm not sure we would have been approved for the freelancer visa when we applied at the Czech embassy.
How Was the Experience?
We have been in Prague since May 2014, and began teaching in August. We teach adults in language schools and in companies, where we travel to a head office and give one-on-one lessons to managers and executives who need English for professional purposes. The pay isn't awesome in Prague, but it's such a great city, and we love living in Europe. Plus, our visa isn't tied to teaching, meaning we can do any kind of work we're qualified for.
---
Teaching Where?
Olivares, Spain
How You Got the Job?
I found out about the program, called Auxiliares de Conversación in Spain, through my study abroad office. The program is essentially a first-come, first-serve, so I sent in my application materials, and that was it!
Job Requirements?
The position has very few requirements, and is open to just about anyone! All that is necessary is being an English speaker and being able to get the visa (being mentally and physically sound and not a criminal). Many teaching programs exist, but the Language Assistants gig is easy to get, so long as you get your application in early (generally early January).
How Was the Experience?
For three years, I taught English in a rural high school through the North American Language and Culture Assistants program. The program is run through the Spanish government and provides candidates with a school placement and stipend, as well as the necessary paperwork for a visa to Spain. My placement was in a high school, and I helped my school start a fully bilingual program and taught English in addition to music, art and technology. It truly kick-started my TEFL career.
---
Teaching Where?
Kowloon, Hong Kong
How You Got the Job?
I applied to a listing I found online. Popular job search engines for teaching jobs in Hong Kong include SCMP Classifieds, JobsDB, and Dave's ESL Cafe.
Job Requirements?
Teaching in Hong Kong requires a Bachelor's Degree along with a TEFL Certificate of at least 150 hours. Some programs will require much more than this, but this is generally the minimum.
How Was the Experience?
I taught English for two years in a learning center in Hong Kong. It was my first job after university and it was certainly a learning experience. Knowing what I know now, I think I would have rather taught in a proper school rather than at a learning center, but I did enjoy teaching overall.
---
Teaching Where?
A small town near Krakow, Poland.
How You Got the Job?
I saw an advert on a TEFL job site and sent an e-mail to the school. I was interviewed by the owner via Skype.
Job Requirements?
A certified TEFL/CELTA/TESOL
How Was the Experience?
I've been teaching at a school in Poland since October 2014 and am due to complete the contract at the end of June 2015. It's my first time as an expat and working as an EFL teacher for a full school year. I work 6 days a week, which included working split shifts two days a week for the first 3 months. It's tiring, but I'm gaining a lot of experience in classroom management, teaching teens, in-house company lessons, and exam classes, which is great. I'm also learning Polish and experiencing life in Poland.
---
Teaching Where?
Laubach, Germany.
How You Got the Job?
I got the job by applying through my university during my senior year studying for a German major/European Studies minor. Past professors had suggested that I apply because of my track record with succeeding in languages and cross-cultural engagement. The application itself was done online, and I wrote an excellent statement of purpose and a personal statement to convince them why choosing me to be a Fulbrighter would be a great idea.
Job Requirements?
The Fulbright requires you to have at least a Bachelor's degree and for the German program, it's also required that you study the language for at least 4 semesters before teaching in the country. There is no English teaching certification requirement, since ETAs are assistant teachers and rarely do lessons solo.
How Was the Experience?
My first experience teaching abroad was through the Fulbright grant on an English Teaching Assistant-ship (ETA). I worked 20 hours a week with students 11-15 years of age, teaching primarily culture-based lessons and engaging the students in a ton of conversation practice. Being in Germany on a Fulbright grant was amazing; it funded travel to and from Europe, paid my living expenses with a monthly stipend of 800 Euros, and took care of health insurance too.
---
Teaching Where?
Ankara, Turkey
How You Got the Job?
I found and acquired the job at the University of Northern Iowa's fantastic overseas teaching job fair. This fair is for formally trained teachers, and often applicants hold Master degrees and compete for international school positions. My school took me with the BA and a teaching license.
Job Requirements?
My American teaching license (State of Wisconsin) was a requirement for this sort of position in Turkey; in contrast a TEFL certificate may work for language schools. The rules have changed from time to time and treated the two situations differently. The work visa had to be acquired outside of Turkey, typically in one's home country. (Contrast this to Panama where I simply walked into a university with a resume, no TEFL, and said I had teaching experience.)
How Was the Experience?
My first teaching job overseas was in Ankara, Turkey teaching middle and high school students Conversational English. The yearlong experience was so life-changing that I published a book about it (The Yogurt Man Cometh). This was a K-12 private school, not the evening language school or adult education variety (which I later did in Panama and Italy).
---
Teaching Where?
Busan, South Korea
How You Got the Job?
I initially applied for ESL jobs in Korea through recruiters. I  was contacted by a recruiter on Careerbuilder when I was looking for work. However, after being turned off by how some were unprofessional and gave me incorrect information, I ended up interviewing directly through the Embassy in Chicago and got the EPIK (English Program in Korea) public school contract offer through them.
Job Requirements?
When I first applied over 4 years ago, you only needed a Bachelors degree to be accepted. However, I attained a TESOL my first year there. You now need a TEFL/TESOL certificate to get an ESL job in Korea.
How Was the Experience?
I taught ESL (English as a Second Language) for over 3 years. It was a fantastic experience. I taught elementary school English for 2 years and high school for 1.5. I met some amazing people who I'm still in contact with and wouldn't had started travel blogging if it weren't for living abroad there as it enabled me to travel throughout Asia.
---
Teaching Where?
Beijing, China
How You Got the Job?
I was living in Beijing at the time and seeking part-time English teaching opportunities. I responded to a job posting on TheBeijinger.com; a great resource for anyone looking for work in northern China.
Job Requirements?
Honestly, the only real requirement was being foreign-looking and from a country where English is the first language.
How Was the Experience?
I worked at a children's museum in Beijing called "The Magic Beanhouse." It was pretty fantastic. I taught there for 6 months as a part time instructor for their English language courses. I only had about 5 students per class, all under the age of 4. Our activities focused on simple vocabulary and usually incorporated the cool museum exhibits.
---
If these travelers have inspired you and you're interested in teaching abroad to fund your travels, or just because it sounds like an incredible experience to have I've got great news. MyTEFL has agreed to give my blog's readers 35% off online courses when you use the discount code ESCP35.