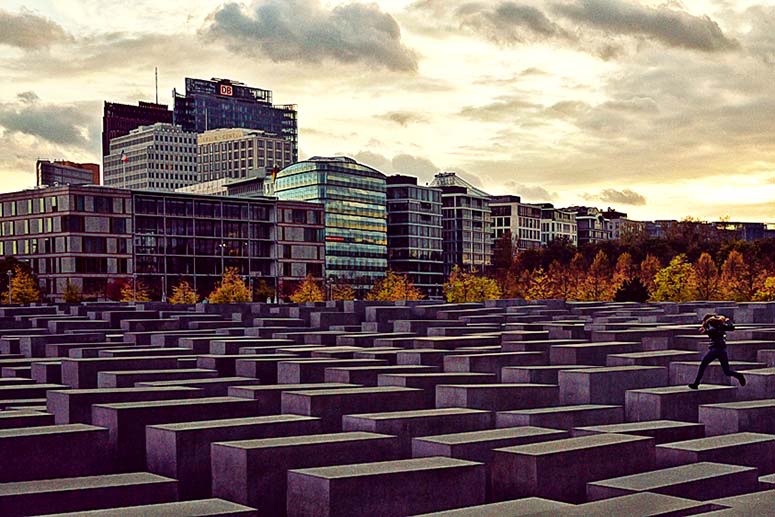 Berlin, Germany is the 3rd most visited city in Europe; it's also the capital and the biggest city in Germany. Separated in half between East and West during the Cold War, the city was reunited in 1990 and has since become a cosmopolitan city filled with appealing architecture, art galleries, and nightlife. There's an endless amount of things to do in Berlin but the three on this list are must-see essentials for the first time visitor.
The Holocaust Memorial
No visit to Germany would be complete without taking some time to remember the victims of World War II. Officially titled "The Memorial to the Murdered Jews of Europe" in Berlin is a memorial to all Jewish Holocaust victims. Consisting of 4.7-acres that are covered by 2,711 concrete slabs designed in a grid pattern. The memorial lists the names of every known Jewish Holocaust victim.
Admission is free and the memorial is located near the the Brandenburg Gate, another pick for my Berlin essentials.
The Berlin Wall
The Berlin Wall divided Germany for 28 years between 1961 to 1989. Little of the original wall exists since it's destruction in the early 1990's. But visits to the Brandenburg Gate & the East Side Gallery are interesting and educational destinations for this historical period. Anyone interested in German history or the Cold War will find these remnants of the Berlin Wall on their travel checklist.
Brandenburg Gate – One of the most well known and visited landmarks in the country. It divided East and West Germany during the days of the Cold War as part of the Berlin Wall. As the only remaining city gate today it's a historical symbol of that period.
East Side Gallery – The largest still-standing section of the Berlin Wall and consisting of 105 paintings from artists the world over. Painted in 1990 the wall is covered with paintings and murals and has been frequently photographed by visitors ever since.
Museum Island
Museum Island holds five world renowned museums in addition to the Berlin Cathedral. All built on the Northern tip of the Spree Island, Museum Island is a UNESCO World Heritage site. You can spend a few hours or an entire day visiting these five magnificent museums :
The Altes Museum – (Old Museum) The first public museum in Prussia with Greek & Roman art & sculptures.
The Neues Museum – (New Museum) Showcasing treasures of the Egyptian Museum, the Papyrus Collection & the collections of the Museum of Pre-History and Early History.
The Alte Nationalgalerie – (Old National Gallery) Featuring works of Classicism, Romanticism, the Biedermeier era, Impressionism and early Modernism.
The Bode Museum – Exhibits sculptures and treasures of the Museum of Byzantine Art and the Numismatic Collection.
The Pergamon Museum – The most visited museum in Berlin, exhibits the Pergamon frieze and the Market Gate of Miletus.