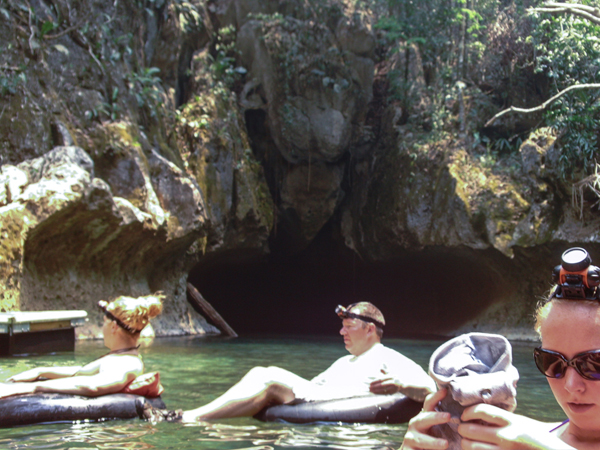 During my trip to Belize in mid-May 2011 (May 17 to be exact) we bought a tour package for the day that included the boat ride, zip lining through the jungle canopy and then cooling off with cave tubing (at the Caves Branch Archaeological Reserve). This was an all day trip (7:00 am – 5:30 pm) and cost extra because of the distance traveled from our island to the mainland. The total day's cost was $230 per person, however you can find these activities much cheaper if you shop around.
The day started as we took a boat ride from Ambergris Caye island very early in the morning, across the shallow Caribbean waters and entered into the Belize River. The ride is fairly long, but during the morning while it's cool out it is a great experience. Cruising up the Belize river we came across small crocs, very large iguanas hanging out in trees, and even manatees!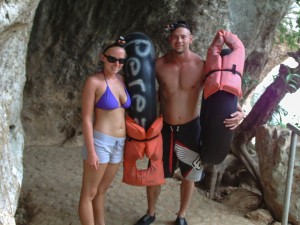 We reached a dock up stream and took a large white van a few miles down the highway. We arrived at the zip line and tubing station (which as far as I can tell, all tour companies share the same equipment and facilities). We geared up for ziplining which was super fun, even for someone like me who's afraid of heights! But I will cover the zip lines in another post.. after getting fairly hot and eating a delicious buffet lunch we all picked up water shoes, inner tubes, life vests, a head lamp and headed on our way into the jungle towards the caves.
To get to the cave tube starting point you embark on a 30 minute walk with all your equipment in tow. For someone who's not very fit I imagine this could be quite a hike, but everyone walks slowly and the guide takes his time to stop and show you things and creatures in the jungle. Along the way you walk through some dry caves which may have small bats inside. Once you're soaked in sweat and getting a bit tired you'll reach the river and instantly be re-energized by how beautiful the water and the limestone rocks are. Everyone hops in their tubes and off you go into 60 minutes of cave tubing excitement!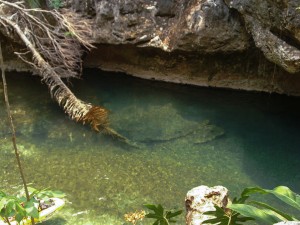 The caves you pass through are dark, big (not tight squeezes), and breathtakingly beautiful. The water is crystal clear and perfect temperature to cool you off. Where I'm from (Arizona) all of our river tubing is in highly polluted and nasty water. I really cannot emphasize enough how beautiful this country is.
Mid May is a few weeks past Belize's 'high season' for tourism so the river wasn't too crowded. However during this time of year the water levels in the river were a bit lower than normal. There were several places along the way it was so shallow we had to stand up and push our inner-tubes along, or the current was simply so weak it would have taken hours to make our way down river. But be aware if you go during the busy tourism season, cave tubing is Belize's most bought land tour package, if cruise ships have landed the place will be very busy!