If you are looking to relocate overseas in the coming years, Singapore should be on your radar. When it comes to deciding where to call home on a long-term basis, forever, you must weigh up the pros and cons before making an informed decision. By doing so, you can prevent yourself from making a life-changing decision that you may come to regret down the line. Continue reading to familiarise yourself with the various pros and cons of moving to Singapore as an expat. 
It is extremely safe 
If you are considering moving to Singapore as an expat, it may benefit you to know that it has consistently been ranked as one of the safest countries in the world. For example, in 2017, it came in second place behind Tokyo on the Economist Intelligence Unit's Safe Cities Index and as of 2021, comes in at fourth place in Global Finance magazine's World's Safest Countries. As a result, it is commonplace for residents and expats alike to visit a coffee shop and leave their laptop sitting on the table whilst they visit the restroom or make a quick phone call outside. In addition, you are also much more likely to be reunited with your belongings if you misplace them or forget to pick them up whilst vacating a café, restaurant, or taxi. If safety and security are determining factors for you during the moving process, Singapore is worth considering.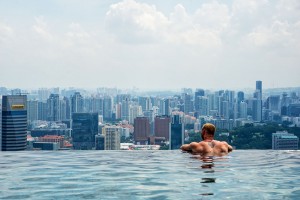 The temperature rarely falls below 30 degrees 
If you are accustomed to colder climates or are looking for yearlong sunshine, the weather Singapore is likely to be a dream come true for you. If you struggle with hot temperatures or are looking to relocate to a country that benefits from clearly defined seasons, however, Singapore may not be the ideal travel destination for you. The weather in Singapore can be one of the main reasons why expats fall in love with the country within a matter of minutes, but it can also become a hindrance. With temperatures rarely falling below 30 degrees, it can be difficult to enjoy outdoor sports or activities without dripping in sweat or losing your breath. It may be suitable for an afternoon picnic or a stroll in the park but if you are a keen sports enthusiast, your hobby may have to be reserved for before sunrise or after sunset. 
There is a wide range of housing options to choose from 
If you have yet to research the housing options in Singapore, you may be pleasantly surprised to learn that there is a wide range to choose from. If you are looking for your own space, for example, a landed property benefits from great square footage and outdoor space. If you are not ready to commit to purchasing a property, on the other hand, an apartment or condo, such as the Golden Mile Complex, may be the best option for you. This is one of the main reasons why expats choose Singapore during the search for their forever home. It is worth remembering, however, that expats are subject to different rules and regulations than local residents when it comes to setting foot on the property ladder in the country. For example, you may be permitted to purchase a condo with no prior government approval but only in buildings with six stories or less. 
You can see companies like https://threemovers.com/singapore-international-moving-companies/ to help your move.
It can be expensive 
Depending on which country you have relocated from, you may find Singapore relatively expensive. As is the case with most countries, however, it is possible to shop at budget supermarkets or rely on local wet markets and street food stalls for fresh produce, meat, poultry, herbs, and spices for less. This can also be a great way to experience the culture and history of your new home and find your favourite dish. If you can't live without a number of home comforts, however, you must be prepared to pay above and beyond for them with several recognisable brands asking double the price of what you would pay for them at home. 
It has an abundance of green space
Despite its cityscape appearance, Singapore is home to a number of vast green spaces for visitors and residents alike to enjoy. This includes skyscrapers with crawling plants, lush public parks and gardens, and even separate hiking trails located in the middle of the city. If you are worried about leaving the country or just enjoy immersing yourself in nature, Singapore is one of the few Asian countries to offer the best of both worlds. 
If you are looking to move to Singapore as an expat, it can be difficult to know what to expect. It may, however, benefit you to know that it is extremely safe, the temperature rarely falls below 30 degrees, there is a wide range of housing options to choose from, it can be expensive, and it has an abundance of green space.