Travel Gifts for Everyone! On any budget!
Shopping for friends and family who don't share the same interests as you can be hard – that's why I've put this list together, by a travel lover for the travel lover you know.
I've spent the last 5 years traveling the world, from luxurious $6,000 10-day getaways to spending less than $1,000 in an entire month. I've flown on over 100 flights around the world with only what I can fit in a carry-on bag. Needless to say, I have a good idea what gifts a traveler will not only think are cool, but are also practical and will be well-used.
A present for that travel person who doesn't want more 'stuff'! Tinggly package experiences in every corner of the world, so buy them this, and they can choose which adventure they want, starting as cheap as 69GBP. Pretty cool, huh? Feel free to send one my way!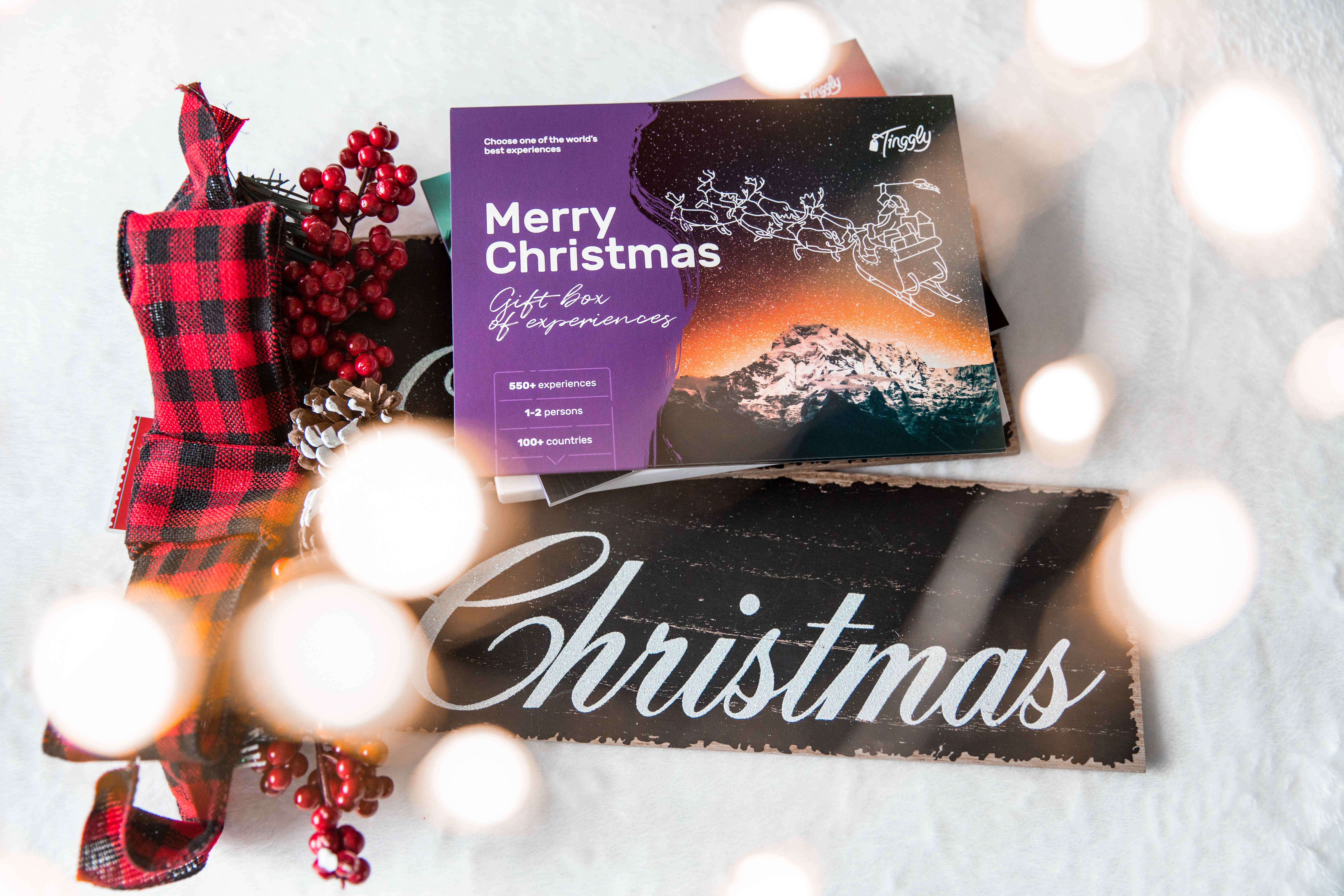 1. Jackery Bar Portable Charger
A portable charger is basically just a spare battery for all your electronics – but it's the perfect budget gift for any traveler. Phones, tablets and laptops all need a recharge for long flights, road trips, and bus rides. This is the charger I use and carry myself, and it can charge iPhones, iPads, Samsungs, laptops and almost all other smart devices. It's also small enough for a purse or pants pocket without being too bulgy.
---
2. Zero Grid's RFID Blocking Passport Wallet
The Zero Grid passport wallet is another item I carry myself and love. Why? Because it keeps my credit cards, cash and passport zipped up and safe; but also easily accessible for the airport, border crossings, etc. It also holds a tiny pen inside it and I can't tell you how convenient that is – every flight to another country you have to fill out customs forms, arrival and departure cards, and it's a huge hassle searching your bags for a pen or trying to beg the guy in the seat next to you for one. It's also RFID blocking to keep your private information safe from identity theft, and is made of water-resistant ripstop nylon with an all-weather zippered closure.
If you don't like the nylon material this leather one is very nice also, it just lacks the convenient pen inside.
---
3. World Travel Map Scratch-Off Edition
This highly popular world map has a travel log feature to display cherished memorabilia or photos. The laminated stock rolls out easily, displays well, does not damage when foil is scratched off. At 34.5″ x 20.25″ it's large and perfect sized for walls.
---
4. Bagsmart Electronics Organizer Case
If you're shopping for someone who loves their electronics this is another perfect gift. Made from durable and waterproof nylon these cases protect valuable electronics from scratches, dust and accidental dropping. It also keeps also those connecting cords and usb cables organized. Easily fits in backpacks and handbags.
---
5. GoPro Hero 5
Only $399.00 – Buy Now
It's the video recorder every travelers knows and loves – GoPro. The latest Hero 5 comes with all kinds of fancy features like 4k video, stabilization and time lapse modes. It's even waterproof to 33 feet. The Gopro's combination of quality and size leave it unmatched for versatile travel video making. These things record memories that will last a lifetime. If the person you're shopping for already has a GoPro then this GoPro accessory kit is sure to please.
---
6. DJI Phantom 4 Drone
Only $972.39 – Buy Now
Drones are more popular than ever before and they capture stunning photos and videos that your average person has never been able to before. The DJI Phantom series drones are by far the most popular because of their compact and lightweight size combined with high quality features and recording.
If the Phantom 4 is too expensive the Phantom 3 drone is still an incredible machine and has been reduced to only $499 with free shipping.
---
7. Hotels.com Gift Cards
Hotels Gift cards make excellent stocking stuffers and fit conveniently inside holiday cards. I love the Hotels.com rewards program and have used them to book a lot of my hotel stays across the world. Most of the big booking sites offer gift cards, and these will be appreciated by any frequent traveler.
---
8. Books That Fuel The Wanderlust
There are tons of amazing places to see in the world and we all love to daydream about them when we're stuck at home. These books are great for that friend or family member who's obsessed with traveling everywhere. Start with these popular choices:
---