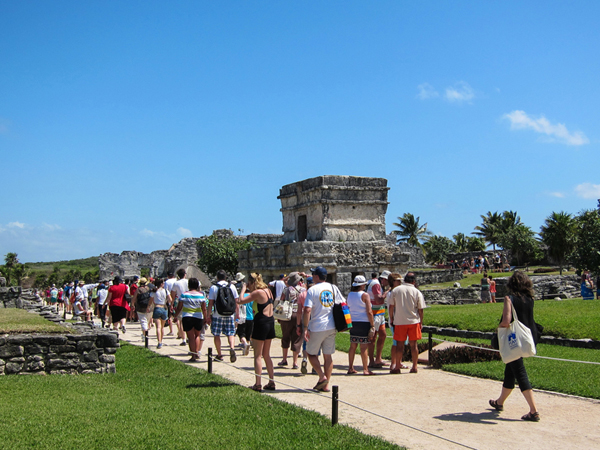 During my March, 2012 week-long (mostly diving) trip to Mexico I spent a day above the water visiting Tulum and Xel-ha on an all day semi guided trip.
Waking up in the wonderful touristy city of Playa del Carmen where we stayed overnight, 40 miles from Tulum, we were picked up by a tour guide in a white van. The van picked up a few others and dropped us all off; where we boarded a large sized tour bus. For the next 2 and a half hours the tour bus drove along the highway, stopping every few miles at every resort and hotel in the entire area picking up more people until the bus was entirely full. Not the worst situation ever, but with limited time it wasn't how I hoped the day to start.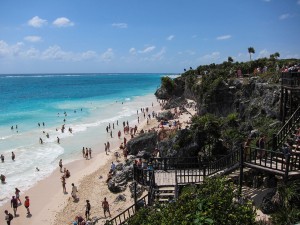 Once we reached Tulum we were given directions and let out. It was already sweltering hot and packed with people everywhere. We were hearded like cattle along a half mile or so path to the entrance and then the tour guide started telling everyone facts about the Mayans and Tulum. To my dismay everything in Tulum was roped off from touch and close viewing. There were people  everywhere making it nearly impossible to take decent photos. To say the least it wasn't an extremely enjoyable time.
Once the tour guide finally finished talking (about an hour after entering) they let us wander off on our own before we had to meet back at the bus for the second half of our day. I beelined it straight up the hill to the cliffs Tulum sits on for a view of the beach. For a few minutes the beauty of the water and beach around us took my mind off the crowd and the heat and I found myself enjoying the day for the first time.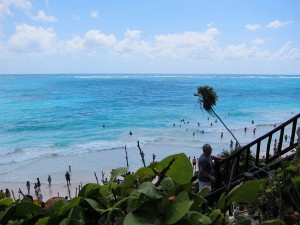 I tried hard to make my visit here pleasant but it just wasn't my day. Tulum wasn't my first time visiting a Mayan site, I traveled to Tikal, Xunantunich, Caracol and Cahal Pech in 2011 and to be honest I found all of them more interesting and a better time (less crowded, no restrictions, still hot). Perhaps my previous experiences had my expectations to high but I just wasn't too impressed with Tulum… or perhaps it was a combination of the not-so-well managed tour, crowdedness, and heat. The bus ride back home was nearly as long as the way there. Thankfully the next 4 hours we spent at Xel-ha saved the day.
My recommendation to you if you're visiting is to pay the extra money for a taxi, or find a small size tour. Go early in the morning before all the tour buses arrive. Bring comfortable walking shoes and plenty of water. They also don't allow any tripods for photography inside.
Despite my own experience, other travelers have enjoyed their visit, check out Barefoot Nomad's review of Tulum here. There are also other Mayan ruins nearby that are less known and less crowded; but just as interesting, I really enjoyed my visit to Ek Balam, and my traveling friends loved Coba.