Top 25 Best Cities for Vegan Travel in Spain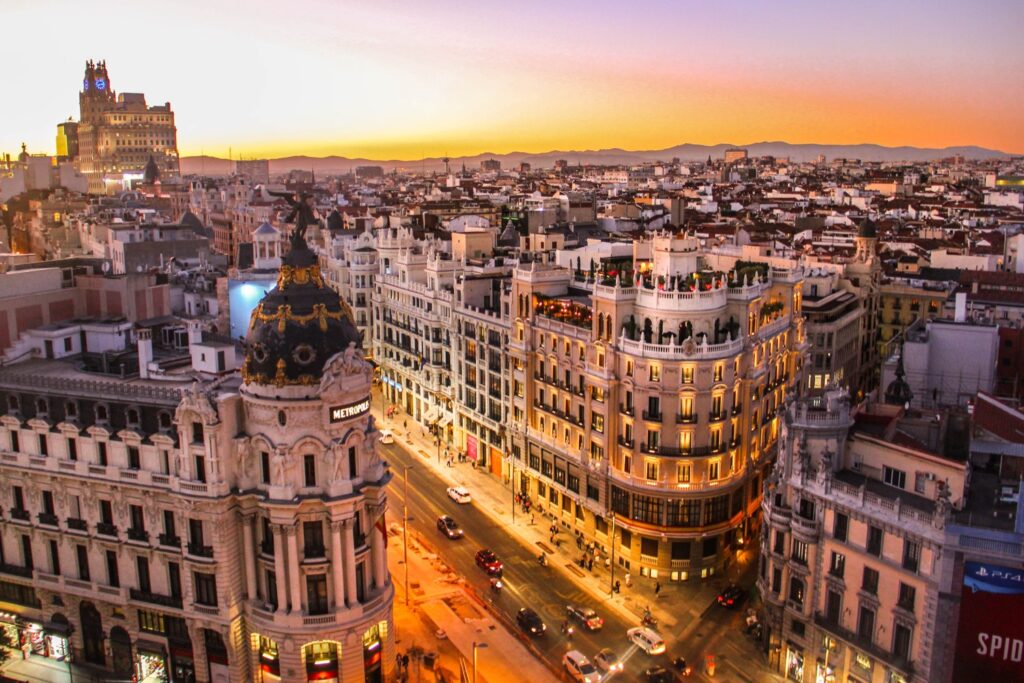 Are you a vegan traveler on the hunt for Spain's most vegan-friendly cities? Look no further! Spain may be known for its love of paella and jamón, but you'd be surprised by the vibrant vegan scene that has been blossoming in cities across the country. From delectable plant-based dishes to eco-conscious cafes, here's your ultimate guide to the top 10 vegan-friendly cities in Spain.
The list is created by
Spain-Holiday
based on the number of veggie restaurants per 10k inhabitants.
1. Barcelona: A Vegan Haven in Catalonia
Barcelona, a city renowned for its architectural wonders, is also a vegan haven. From bustling markets offering fresh produce to innovative plant-based restaurants, you'll find a plethora of options to indulge in vegan delights. Try Flax & Kale for their innovative dishes or indulge in vegan tapas at CatBar.
2. Santiago de Compostela: Vegan Pilgrimage Delights
Even on the pilgrimage route of Camino de Santiago, vegans won't be disappointed. Santiago de Compostela offers vegan options that cater to pilgrims seeking plant-based fare. Enjoy vegan galician pie at Eira do Mar or explore the veg-friendly spots around Praza de Cervantes.
3. Santa Cruz De Tenerife: A Vegan Paradise in the Canaries
For those heading to the Canary Islands, Santa Cruz de Tenerife boasts a thriving vegan scene. With vegan-friendly cafes and restaurants lining the streets, you can relish everything from vegan tapas to cruelty-free desserts. Be sure to visit Veg & Roses for a tantalizing vegan experience.
4. Granada: Authentic Spanish Flavors, Vegan Style
Granada's rich history and Moorish architecture also extend to its vegan culinary offerings. Delight in the flavors of vegan tapas at El Piano or indulge in plant-based paella at Paprika y Comino. Granada ensures that vegans don't miss out on authentic Spanish flavors.
5. Palma de Mallorca: Vegan Bliss by the Beach
Palma de Mallorca's stunning beaches are complemented by its growing vegan scene. Whether you're craving vegan sushi at Bon Lloc or a hearty vegan burger at Vegan & Raw, this city offers a variety of options to keep your taste buds happy.
6. San Sebastian: A Culinary Haven for Vegans
Known for its culinary prowess, San Sebastian doesn't disappoint vegan travelers. Explore vegan-friendly pintxos bars like A fuego negro or indulge in plant-based delights at Bodegon Alejandro. San Sebastian's gastronomic delights extend to the vegan world as well.
7. Salamanca: Plant-Based Pleasures in a Historic Setting
Salamanca's historic charm is beautifully complemented by its vegan-friendly offerings. Explore vegetarian and vegan restaurants like La Cueva de Salamanca or indulge in vegan desserts at Valorame. This city ensures that even history buffs can savor plant-based pleasures.
8. Toledo: A Vegan Twist on Traditional Delicacies
Toledo's medieval charm meets modern veganism in a delightful fusion. Savor vegan versions of local dishes like marzipan at Obrador Santo Tome or indulge in vegan tapas at La Madriguera. Toledo is a testament to the fact that traditional flavors can be enjoyed with a vegan twist.
9. Gijon: Coastal Vibes and Vegan Delights
Gijon's coastal charm is mirrored in its vibrant vegan scene. Enjoy vegan pizzas at La Tartana or explore the creative vegan menu at Cabo Torres. Whether you're strolling along the beach or through the city, Gijon's vegan delights are never too far away.
10. Tarragona: A Hidden Vegan Gem
Tarragona, often overshadowed by larger cities, offers a delightful surprise for vegan travelers. Explore vegan options at Natura Bar or indulge in vegan-friendly Mediterranean dishes at Raízes. Tarragona's hidden gem status extends to its vegan culinary scene.
10-25 best cities for vegans in spain: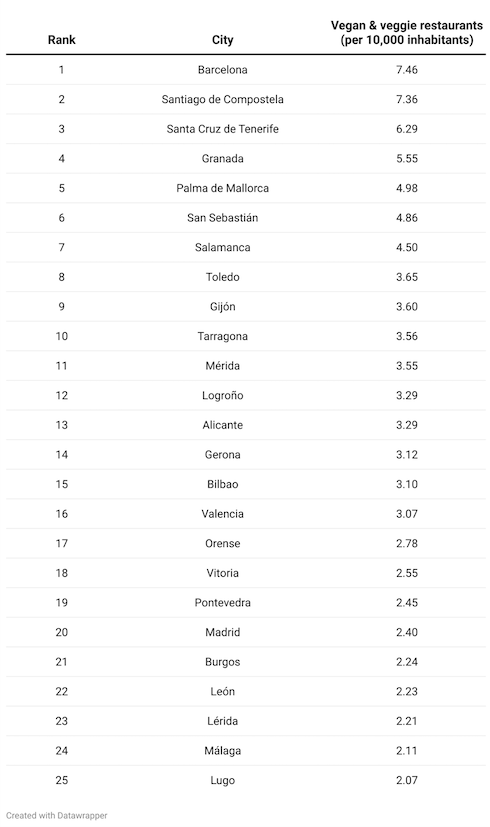 In a Nutshell
From bustling cities to charming coastal towns, Spain offers a range of vegan-friendly destinations that cater to plant-based travelers. Whether you're savoring plant-based tapas in Barcelona or exploring the vegan delights of Tarragona, these 10 cities are a testament to Spain's evolving culinary landscape. So pack your appetite and embark on a vegan adventure through Spain, where every city has a vegan surprise waiting to be discovered.