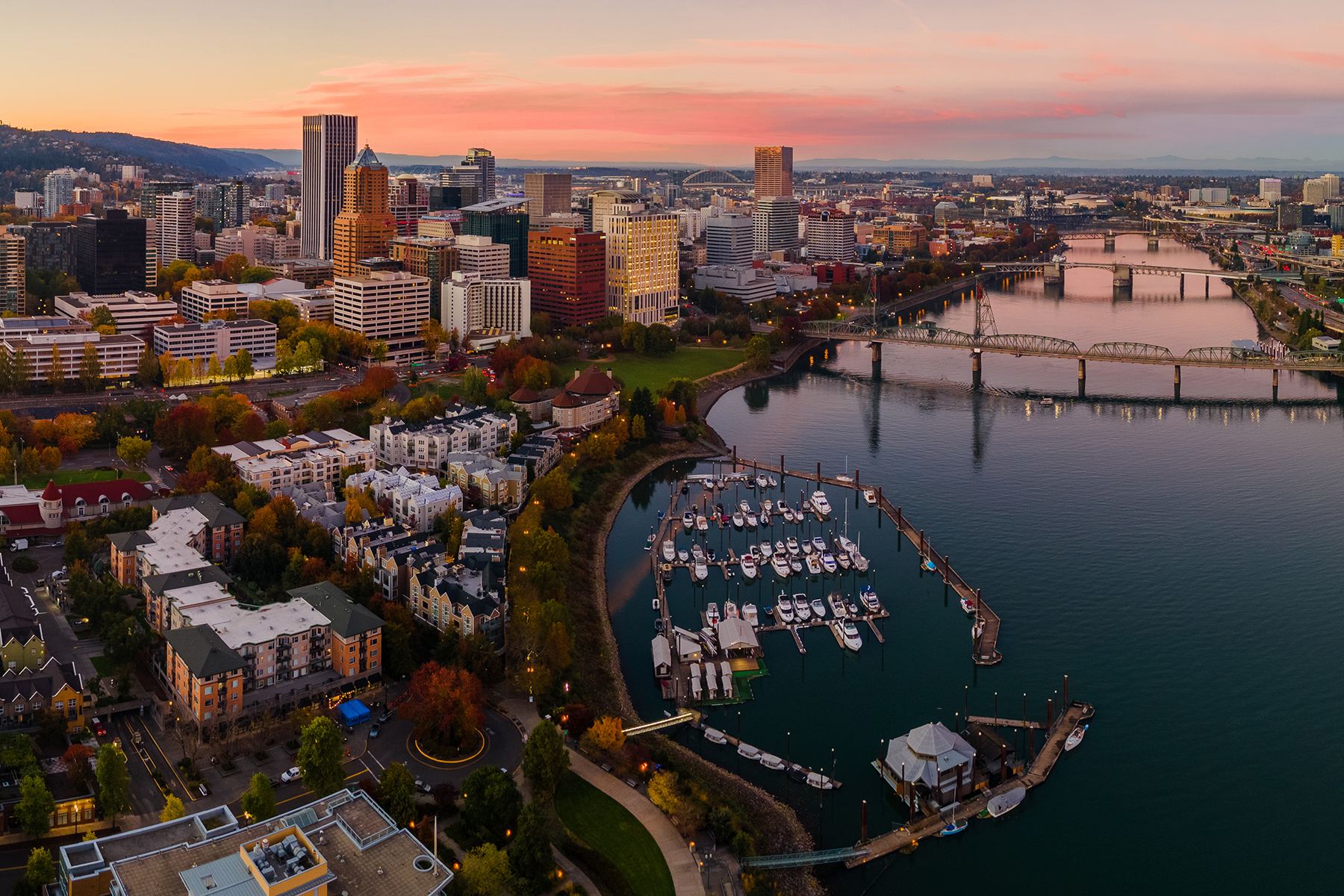 Portland is Oregon's largest city and it's located at the confluence of two major rivers: the Willamette _ which runs through the city center_ and the Columbia _which runs on the border with Washington_.
Portland's strategic location makes it a haven for outdoors enthusiasts. It's the ideal base to explore the gorgeous Pacific Northwest scenery and there are plenty of hiking and water sports opportunities to enjoy. It's one of America's most unique cities and interesting metropolitan areas. Although it is usually overshadowed by Seattle, it definitely deserves a visit. With a world-class food scene, lots of local breweries and a postcard-perfect scenery, you have no excuses not to spend some time in this eclectic city.
Nicknamed The City of Roses, Portland also has a great selection of captivating museums and historical places to see. Whether you are a lover of the outdoors or prefer more urban settings, Portland won't disappoint you. If you've been looking into the city's attractions and you don't know where to start organising your trip, at Bonzah we've made things easier for you. Go on reading to discover everything you can do here.
Powell's City of Books
Powell's City of Books is probably on every single top ten list. It's one of the mainstream attractions in Portland and it's something truly unique to see.
Powell's City of Books is one of the few brick-and-mortar bookstores still thriving in the age of Amazon. It takes up a full block with multiple levels and, even if you aren't a fan of books and don't make a purchase, a visit to this bookstore is an experience in itself.
Even though it now has a few satellite locations, the one you have to see as a visitor is the one in the Pearl district. There are even guided tours on offer every Sunday at 10 am or 4pm.
With nine rooms, three floors and 3500 sections sprawled across 8000 square feet, Powell's City of Books can be overwhelming.You even need a map to find your way around! It's a lot more than just a great bookstore: a true microcosm of the city, with its smart and eclectic offerings, onsite coffee shop and plenty of passionate people. According to their website, there are around a million new and used books housed here. Each room is colour coded and there's even a Rare Book Room that you just HAVE to explore with its plenty of signed volumes!
Before leaving this world of books, check out the Espresso Book Machine, which you can use to publish your own book in the time it takes to make a cup of coffee.
Relax at the Japanese Garden
Often called the most authentic Japanese garden outside Japan, Portland's Japanese Garden is a tranquil retreat in this cosmopolitan city. In 2017, three new buildings were added to the already impressive array of water features, koi ponds, ornamental cherry trees, a ceremonial teahouse and a sand garden. Visitors are asked to stick to the approved paths and don't step on the raked sand gardens or moss, turn your phone off and don't feed or touch the koi.
Visiting the Japanese garden is an invitation to explore the country's beautiful nature and history. Located in the hills of the iconic Washington Park that overlooks the city, it provides an urban oasis for locals and tourists alike.
Portland Japanese Garden is composed of five sub-gardens: the largest is the Strolling Pond Garden; the Natural Garden showcases several streams, waterfalls and unique vegetation; the Sand and Stone Garden has tranquil raked patterns of weathered stones; the Flat Garden has raked white sand representing water and sharply contrasting with the green lawn, moss, evergreens and azaleas; finally, the Tea Garden contains a tea house surrounded by an inner garden.
There's also a Cultural Village where you can learn about traditional Japanese arts and customs.
Stroll Around Washington Park
Washington Park is located west of Portland. It's a lush destination with 410 acres of green space, well manicured gardens and forested trails. Some of the great attractions of the city, such as the Portland Japanese Garden, Oregon Zoo or the Hoyt Arboretum, can be found here and it also has a very nice playground for children.
If you love hiking or biking, the Washington Park Loop, A 6.4km loop trail, is quite popular amongst locals and tourists. There are shorter trails also available that you can learn about by downloading a map from the park's website. In fact, there are 15 miles of trails through the park overall, including some that connect Washington Park to Forest Park!
If you have time to visit only one park in Portland, you definitely need to visit Washington Park. It's a top place to relax and it has plenty of sporting and leisure facilities, public art installations, and lots of things to keep you occupied.
Visit Pittock Mansion
Known as Portland's first finest historic house museum, the Pittock Mansion is worth adding to your downtown Portland itinerary. Built in 1914, the Pittock Mansion tells the story of Portland's transformation from pioneer town to modern industrialised city through the history and legacy of one of its most influential families: the Pittocks, Henry and Georgina Pittock.
It's a sumptuous French Renaissance-style chateau high in the hills of West Portland. With 46 rooms to explore, it's a unique residence and a must-see. Drenched in history and culture, this chateau is filled with gorgeous features and sophisticated touches, such as the Turkish smoking room, a Jacobethan library, an Edwardian dining room and a French-style oval drawing room.
Pittock Mansion is located at a height of 950 feet and is only accessible through public transport. As you stroll across its gardens you can indulge in mesmerising views of the cityscape.
It's one of the best things to do in Portland for the historically minded.
Discover the OMSI: Oregon Museum of Science and Industry
OMSI is a long-time favourite attraction in Portland for locals and a must-do for visitors, especially families with children and tourists with a child at heart. OMSI stands for Oregon Museum of Science and Industry and it is an interactive museum that lies on the east bank of the Willamette River across from Waterfront Park. It's a fascinating experience for children and adults alike with its interactive and hands-on activities devoted to chemistry, weather patterns, physics and geothermal activity. It also hosts a Planetarium and an IMAX theatre.
The OMSI has 5 halls and 8 different labs where you can get hands-on with the exhibits.  Founded in 1944, it's one of the leading science museums in the country and has an international reputation in science education. The Turbine Hall will allow you to explore concepts of chemistry, physics and music. There are a plethora of buttons and gadgets to test out theories and ideas and see them in action. The Science Playground allows full-body experimentation and building. The Natural Science and Space halls further our understanding of the natural world. Younger children will love the water station as it provides some wet, hands-on fun. Smocks are provided but wearing water-resistant shoes or bringing a change of clothes is always a good idea!
During your visit to the OMSI you can also get a glimpse of life on a submarine. The USS Blueback was the last non-nuclear submarine to join the US Navy and was in active service from 1959 to 1990. You can explore what life was like on the submarine, touch a torpedo and look through a periscope. The radio room is restored to full working order. There are also guided tours available.
Join the Locals at Tom McCall Waterfront Park
Tom McCall Waterfront Park is a popular riverside park which lines the west bank of the Willamette River. It was finished in the late 1970s and replaced an old freeway and it now attracts in-line skaters, cyclists and joggers. During summer it's the ideal venue for outdoor events and parades.
The best way to explore the Waterfront Park is on foot. Your first stop will probably be the Interactive Salmon Street Springs Fountain, which emits water from 185 jets to the beat of computer-generated patterns. Then continue north along the paved waterfront path. Once you pass the Morrison Bridge, you'll reach the Battleship Oregon Memorial. The Bill Naito Legacy Fountain is north of there; admire its lively jet and make way towards Burnside Bridge. The Japanese American Historical Plaza is nearby. From there, a row of cherry trees take you to Friendship Circle, an interactive monument playing composed Japanese music just west of the Steel Bridge. Then go on walking over the Steel and Hawthorne bridges and then back around to make a loop.
Strolling along Tom McCall Waterfront Park is one of the most attractive ways to see Portland's famous bridges. It's so big that it is divided into several sections. The Esplanade is the riverfront corridor and the Central Lawn is the primary green space in the park, for instance.
Pioneer Courthouse Square: A Place to See and Be Seen
Pioneer Courthouse Square is located in the heart of downtown Portland. It's a multi-tiered brick plaza that locals have nicknamed Portland's "living room". It's the most-visited public space in the city and a popular meeting spot. As you walk along the red bricks, pay attention to their individually engraved names, symbolising the people that make Portland such an extraordinary place.
Every year, there are more than 300 programmed event days held here. It's a public park that spans across a full 40k square-foot city block.The square is also a great place to see public art. Two popular pieces are the Umbrella Man sculpture and the Weather Machine, a 33-foot-tall column with a large orb on top. If you go there at noon you'll see the orb open up and reveal the weather forecast for the day.
There are also many food carts in the area where you can enjoy delicious street food.
Soak Up in Art at Portland Art Museum
Founded in 1892, the Portland Art Museum is the seventh oldest museum in the United States and the oldest in the Pacific Northwest. It's recognized worldwide for its permanent collection and temporary exhibits and it's a must-do when you're in Portland.The permanent collection includes Native American carvings, Asian and American cart, photography and English silver. The museum is also home to the Whitsell Auditorium, a first-class theatre that frequently screens rare or international films.
Portland Art Museum is a great place to visit on rainy days in the city. With 42000 items to admire, this museum will enthral you with its eclectic collection. It's spread over three interconnected, architecturally significant buildings: one modern building designed by I.M. Pei,one Federal-style three story mansion and one Beaux-arts style gallery built in 1911. It's home to pieces from giants like Andy Warhol, Claude Moent, Wyeth, Edward Hopper and Homer.
Visit the International Rose Test Garden
The International Rose Test Garden is practically what gave Portland its nickname of "Rose City". They sprawl across 4.5 acres of manicured lawns, fountains and flowerbeds and on a clear day you can catch peaks of downtown and Mt Hood. There are over 700 rose varieties, including many old and rare specimens.
Officially established in 1917, the International Rose Garden was designed to serve as a testing ground for new rose varieties. More than 10 thousand individual rose bushes bloom in the Garden from late May through October, representing over 610 different rose varieties.
Don't miss the amphitheatre and Shakespeare Garden, which only has types of roses referenced in Shakespeare's  plays.Other interesting sub gardens are: the Royal Medal Garden, the Royal Rosarian Garden (which has blooms dedicated to former public servants), the Miniature Rose Garden amongst others. While you're there, check out the Queen's Walk, a brick path with bronze plaques commemorating each Rose Festival queen and signed in her real handwriting. You should also keep an eye for public art such as the Water Sculpture fountain and the Royal Rosarian bronze statue.
Stroll Forest Park
Forest Park is one of the largest urban forests in the country. It's the ideal place to escape the buzz of the city. Its huge canopy of trees stretches over 5100 acres, covering a distance of more than 8 miles. There are more than 70 miles of trails criss-crossing the park, including the popular Wildwood Trail, part of Portland's 40-Mile Loop. Other nice trails are the Forest Park Ridge Trail and the Dogwood Wild Cherry Loop.
Forest Park offers a plethora of opportunities of outdoor fun, including lots of animal and bird spotting opportunities. There are over 100 species of birds here, as well as 62 species of mammals.
Since you can spend hours here, make sure you have enough water and snacks with you. For your orientation you'll find maps at most trailheads and at intersections of trails. And you can also download an online map.
The western side of the park offers views of the Columbia and Willamette Rivers as well as the Tualatin Mountains.