Akumal, Mexico
Akumal, Mexico is a small town located between Playa Del Carmen and Tulum that consists mainly of luxury resorts and vacation homes. Small shops near the beach provide tourists souvenirs, swimming gear and tour excursions. The beach has white sand and stunning Caribbean water great for swimming and snorkeling. A big tourist attraction on the beach is to swim with sea turtles.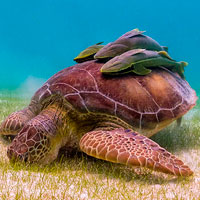 Go swimming with green sea turtles for free at Akumal, Mexico. If you want to go snorkeling with turtles don't miss your chance at Akumal Beach. It's free and it's fun!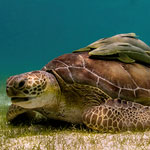 This week's photo is of a sea turtle feeding on sea-grass in Akumal, Mexico. Attached to it's shell are 3 large remoras (suckerfish).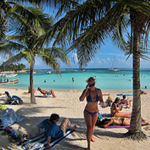 This week's picture is of Akumal beach, south of Cancun and Playa Del Carmen in Mexico. Home of world class scuba diving, snorkeling and endangered Green Sea Turtles.