Cancun, Mexico
One of Mexico's most famous beach destinations, but does it live up to the hype?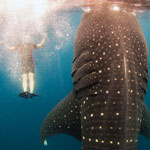 I'm plunging into the ocean with the world's largest fish – whale sharks! Hundreds are gathered off the coast of Cancun and they're literally bumping into me as I swim with them!
Cancun becomes the place to be for tango lovers from across the globe during the Tango Maya festival! Whether you're an experienced dancer or a complete novice, this festival provides the perfect backdrop for your tango encounter, with 4 days of shows, milongas and masterclasses with world-renowned artists.
I'm petting, feeding and getting too close for comfort with some of Mexico's most exotic and wild animals! The Crococun Zoo is one of a kind in Mexico.