Scuba Diving Blog
Scuba diving has grown from a fringe hobby into an increasingly popular activity over the decades. It's one of my favorite things to do while traveling. There's nothing else comparable to getting underwater and scuba diving. I've seen whale sharks, tropical fish, dolphins, sharks, colorful reefs, underwater caves, cenotes, and shipwrecks on my travels. These scuba dive trips provide just as many memorable moments as any outdoor adventure I've been on. Also included in this category are other water-based activities like swimming and snorkeling.
Newest on Scuba Diving & Snorkeling: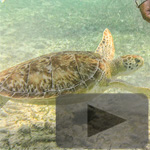 Watch video and see pictures from some of the best snorkeling in the entire world. Hol Chan and Shark Ray Alley off Belize's largest island, Ambergris Caye. I came across sea turtles, rays, grouper and a huge variety of Caribbean reef fish.