Arizona Travel
I spent more than 10 years living in Arizona and my passion for traveling developed here. I've traveled extensively throughout Arizona and now I'm sharing the highlights of this beautiful state with you. Find the best things to do in Arizona you might have never known about – offering much more than just the Grand Canyon or the city of Phoenix. There's lots of culture, unique small towns full of character, and if you like the outdoors there are plenty of caves, slot canyons, lakes, mountains and forests to be explored.
Newest on Arizona Travel: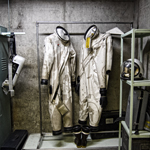 Pictured are the fueling suits hanging in the decontamination room of the Titan Missile Museum. To the right on the wall is one of the original phones from the silo's active days. Once known as Air Force Facility Missile Site 8, the museum is a 'retired' and disabled ICBM (intercontinental ballistic missile) site located in the desert south of Tuscon, Arizona.