Belize Travel
Belize is a small country that packs a big punch. Incredible adventures are to be had on the land and in the sea. Find out my favorite things to do in Belize on the listed posts below. This amazing country has it all – jungle adventures, amazing scuba diving and snorkeling, unforgettable beaches and sunsets, culture and so much more.
Newest on Belize Travel: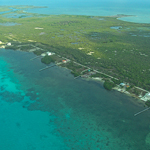 It was my first time flying on a 'puddle jumper' (a very small airplane) and I was a nervous wreck! However, I still managed to turn on the camera and snap some shots while we flew above the paradise island, Ambergris Caye off the coast of Belize. And what...