Mexico Travel
I've traveled to Mexico on multiple occasions and yet still have barely seen any of this enormous country. In recent years Mexico has had a lot of negative publicity, but I've traveled to the US-Mexico border, the Yucatan peninsula, visited Mayan ruins and experienced world-class scuba diving. Mexico has a huge variety of landscapes, culture and unique foods waiting to be experienced. I loved my trips to Mexico, discover more about this beautiful country in my posts below.
Newest on Mexico Travel: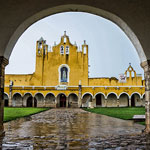 It's no wonder why Izamal was listed as one of Mexico's magic towns when you see the beautiful architecture and historic character it's streets offer. This week's photo is of Izamal's colonial Franciscan monastery on a rainy day.