Playa Del Carmen, Mexico
Growing rapidly from a small tourist city to an international travel destination designed for tourists, expats and Mexicans alike. Travelers enjoy a beautiful beach, luxury shops on Fifth Avenue and unlimited entertainment from nearby day trips and attractions. One of my highlights is always the Emotions Native Park, where you can ride ATVs, whirl down ziplines and have the adventure of a lifetime. You can BOOK EMOTIONS NATIVE PARK HERE with Klook.
Newest on Playa Del Carmen: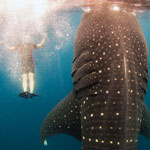 I'm plunging into the ocean with the world's largest fish – whale sharks! Hundreds are gathered off the coast of Cancun and they're literally bumping into me as I swim with them!